<!EpnHeading12>Meet Ziona : Father of over 100 and husband to 47 wives<!EpnHeading12End>
Source:
The Sangai Express / NNN
Aizawl, November 19: Sixty four-year old Ziona, married to 47 wives and father of over 100 children, is still going as strongly as before with the latest addition of a six-month old infant to his huge family.

Believed by the Mizo community to be the largest joint family in the world, Zion lords over 180 members of a religious cult that was founded by his father known simply as Pu Chana Pawl.

The cult is located on a hillock at Baktawng village, about 80 kilometres from Aizawl.

The members of the cult do not mind being called a religious sect because they take pride in nurturing the legacy of 'Lalpa Kohhran' (God's church) founded by their 'godfather' Chana in 1966.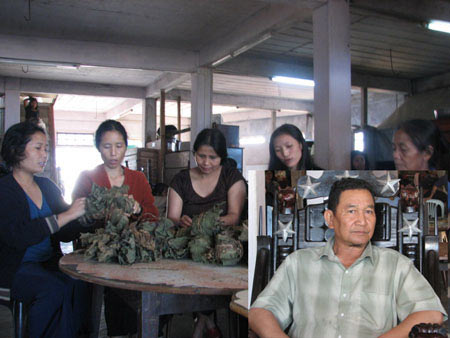 Cult leader Ziona sits on the chair specially made for him and some of his 47 wives- NNN

The separation from the predominant Presbyterian Church came in the 1930s when the Church headed by the Welsh missionaries banned the Mizo traditional drum as an instrument of worship.

Chana and his brother Khuangtuaha rebuked the Church's ban and left the Church with their followers, and till date, their descendants have been carrying the faith of their forefathers.

Ziona's father Chana, who was said to have married over 20 women died in 1997; after him the legacy of 'Lalpa Kohhran' was carried on by his eldest son Ziona.

Like his father Ziona is responsible for the spiritual, social and economic welfare of all his family members.

"We built a society that is more tolerant of personal differences in views and thoughts and where people appreciate and carry forward the value of mutual respect, love and co-operation," Ziona said.

"To expand my sect, I don't mind even going to America to marry a woman," he said.

66-year old Zathiangi, the first wife of Ziona and matriarch of the cult said, "I am proud to serve my husband and my sisters (other wives of Ziona) throughout my life.

"We are a very happy and self-sufficient family," she added.

Interestingly, 26-year old Huntharnghaki, the latest wife who Ziona married this year and the mother of six-month infant said, "If a family system is laid on the foundation stone of mutual and genuine love and respect for each and every member including children, then the system is guaranteed to be a success and this is what we have been practising." According to the local people, Ziona got married to at least 10 women during this year alone.

Despite his busy schedule, Ziona is able to maintain the whole family without any hardships.

Nunparliana, 44, the eldest son of Ziona said, "A head count of all my father's children is a tough job.

The last time we counted, we were about 110.Some have gotten married and settled elsewhere while some have passed away." "My father had 50 wives but three of them have passed away and three have left him.

All of us are happy and having a secure life here", he added.

The administration of the settlement is so complete that besides the religious aspect of the unit, the Lalpa Kohhran family have their own school called Chhuanthar Students Home (Class V to Class X), a playground they call Chhuanthar Stadium, carpentry workshops, piggery farm, poultry farm, paddy fields and a vegetable garden big enough to feed the entire family.

About 20 kilos of rice and at least ten chickens are cooked daily for the whole family.

"We have not received any help from the Government.

Even our stadium was built by the members of our sect and teachers working in our school from our sect and they work voluntarily,'' Nunparliana said.

The family's main revenue source is carpentry.

"Window frames, almirahs, perhaps anything that can be made out of wood is our products," Nunparliana said adding that 60 percent of the window frames used in Aizawl are their product.

"We often receive scornful comments from people who have visited us; they call us a religious sect that is bound to perish,'' a young girl who is the grand-daughter of Ziona said.

The local people of the village said Guinness World Record officials' bid to put Ziona into the books for getting married to the most number the women in the world was unsuccessful because the cult leader refused to pose for a photograph.



* Comments posted by users in this discussion thread and other parts of this site are opinions of the individuals posting them (whose user ID is displayed alongside) and not the views of e-pao.net. We strongly recommend that users exercise responsibility, sensitivity and caution over language while writing your opinions which will be seen and read by other users.
Please read a complete Guideline on using comments on this website.