<!EpnHeading4>N Pahari passes away<!EpnHeading4End>
Source:
The Sangai Express
Imphal, October 18: One of the most popular singers of all time, Nongmaithem Chittaranjan popularly known as Nongmaithem Pahari passed away this evening at RIMS hospital after a protracted illness.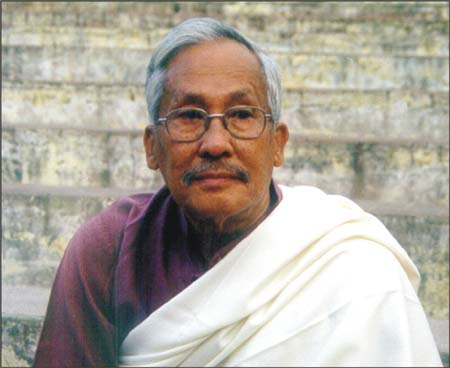 A File photo of Nongmaithem Pahari

Born to N Thanil and Tombi Devi at Yaiskul Chingakham Leirak on August 24, 1934, Pahari soon went on to capture the hearts of every Manipuri with his melodious songs, which were heavily laced with the spirit of patriotism.

In all he lent his voice to over 500 songs.

He was also an activist, being a member of the Central Committee of the UNLF when it was formed on November 24, 1964.For being a member of the outfit, Pahari was jailed for three years from November 21, 1969 and was released under clemency when Manipur attained Statehood in 1972.Pahari served as the Station Director of AIR Imphal/Kohima and DDK Imphal.

He contested the LS poll as an FPM candidate.



* Comments posted by users in this discussion thread and other parts of this site are opinions of the individuals posting them (whose user ID is displayed alongside) and not the views of e-pao.net. We strongly recommend that users exercise responsibility, sensitivity and caution over language while writing your opinions which will be seen and read by other users.
Please read a complete Guideline on using comments on this website.