<!EpnHeading5>CADA's torch rally lights up fight against drugs<!EpnHeading5End>
Source:
The Sangai Express
Imphal, June 25: As part of its week-long observance in connection with the International Day Against Drug Abuse and Illicit Trafficking, 2007, which falls tomorrow, Committee on Anti-Drug and Alcohol (CADA) organised a mass torch rally at different parts of the four valley districts of the State tonight.

People in large number, majority of whom were womenfolk participated in the torch rallies which commenced simultaneously as the clock struck 7.30 pm in different parts of Imphal East, Imphal West, Thoubal and Bishnupur districts.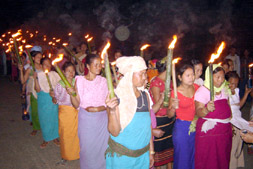 Torch rally by CADA to fight the menace of drugs
Some of the places where the torch rally carrying the message of making Manipur a drug free State include Oinam, Ngaikhong, Phubala, Moirang, Sendra, Thanga, Nongmaikhong, Kwaksiphai, Toubul, Ningthoukhong, Nachou, Sunusiphai, Thoubal Kiyam Siphai, Wabagai, Khongjom, Thoubal Athokpam, Thoubal Haokha, Sugnu, Umathel, Kakching Khunou, Thongam, Tokpaching, Waikhong, Thongjao, Langmeidong, Laimanai, Keirak, Tejpur, Terapokpi, Wangjing, Irengband, Heirok, Thoubal Kshetri Leikai, Sikhong, Nongpok Sekmai, Ukhongshang, Top Kshetri Awang Leikai, Kongpal, Khongman, Bashikhong, Ningomthong, Khetrigao, Wangkhei, Keikhu, Kongba Uchekcon, Naharup, Akampat, Keirao, Luwangshangbam, Khabam, Achanbigei, Lamlong, Singjamei, Chingamakha, Chingamathak, Khumbong, Haobam Marak, Kakwa, Kwakeithel, Heirangoithong, Waikhom Leikai, Uripok, Sagolband, Thangmeiband, Naoremthong, Lamshang, Sekmai, Maharabi, Khurkhul, Kanta, Leimakhong, Naorem Leikai, Iroisemba, Langjing Achouba, Langthabal Kunja, Yurembam, Konthoujam, Sagoltongba, Awang Khunou, Tejpur, Heirok, etc.
Meanwhile, CADA has made all the necessary preparation for the success of the motor cycle rally to be organised by it tomorrow in connection with the observance of the International Day Against Drug Abuse and Illicit Trafficking.
The motor cycle rally to be participated by around 350 motorists would be flagged off by MLA Dr Ibohalbi from Khuman Lampak Main Stadium at 8.30 am tomorrow.
* Comments posted by users in this discussion thread and other parts of this site are opinions of the individuals posting them (whose user ID is displayed alongside) and not the views of e-pao.net. We strongly recommend that users exercise responsibility, sensitivity and caution over language while writing your opinions which will be seen and read by other users.
Please read a complete Guideline on using comments on this website.