<!EpnHeading4>MSF volunteer shot dead, pal escapes<!EpnHeading4End>
Source:
The Sangai Express
Imphal, January 07: Unidentified gunmen shot dead a volunteer of Manipuri Students' Federation (MSF) at Tera Sadokpam after picking him up at gunpoint from Uripok Achom Leikai even as another youth reportedly escaped from the clutch of the unidentified gunmen today.

In protest against the killing, a bandh has been imposed along Uripok-Kangchup Road with immediate effect.

The deceased has been identified as Mangsatabam Bharatngamba (25) s/o Iboyaima of Uripok Achom Leikai.

He was said to be a volunteer of MSF.

The other youth who managed to escape from the clutch of the unidentified gunmen has been identified as Yurembam Inao s/o Ibomcha of Uripok Achom Leikai.

According to report culled by the press, both Bharatngamba and Inao were picked up by two unidentified gunmen who came in an Autorickshaw while they were waiting in front of the office of the Samaj Tengbang Lup located in Uripok Achom Leikai at around 8 am today in connection with a picnic programme to Singda dam organised by the local club.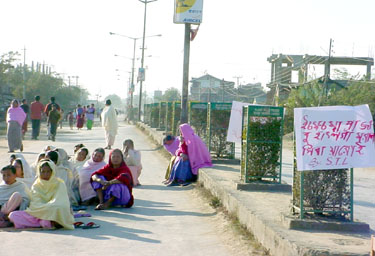 The Uripok-Kanghup road being blocked to protest the killing of a MSF volunteer by unidentified gunmen at the banks of Nambul
At first, they were made to lie down on the bank of Nambul river and one of the unidentified gunmen fired three rounds at Inao.
But the bullets missed, and Inao managed to escape from there.
Afterward, the unidentified gunmen hijacked a Kinetic Honda coming along the way and took Bharatngamba along with them.
On hearing about a dead body lying at Tera Sadokpam, the family members went to inspect and found that it was that of Bharatngamba.
There was a fatal bullet mark shot from the back of his head which exited through his temple.
Lamphel police have picked up the body and deposited the same at the mortuary of RIMS Hospital.
As news of the killing of Bharatngamba spread, infuriated local people immediately imposed a bandh along with the Uripok Kangchup Road by blocking the route with burning old tyres.
Later during the day a public meeting was also convened in protest against the killing.
On the other hand, one special contractor identified as Thoudam Romesh (43) of Mongshangei Mamang Leikai has been hospitalised at RIMS of the bullet injuries he received when unidentified gunmen shot at him near his residence gate this morning.
The bullet scratched on the side of his stomach, according to police sources.
* Comments posted by users in this discussion thread and other parts of this site are opinions of the individuals posting them (whose user ID is displayed alongside) and not the views of e-pao.net. We strongly recommend that users exercise responsibility, sensitivity and caution over language while writing your opinions which will be seen and read by other users.
Please read a complete Guideline on using comments on this website.