We need to break the deadlock in the debate on "AFSPA"

New Delhi, 6 September 2010:
One Day Conference to Asses the Call to Repeal the Armed Forces (Special Powers) Act 1958
Wednesday, 8 September 2010, 9.00 a.m. - 5.00 p.m., Conference Room I,
India International Centre,
40 Max Mueller Marg (Near Lodhi Gardens), New Delhi

Indian civil society organisations, women activists from the Northeast and other parts of the country, scholars, parliamentarians and members of the armed forces are joining hands to assess the call to repeal the controversial Armed Forces Special Powers Act (AFSPA) during a one day conference at India International Center in New Delhi.

"AFSPA has entered its 52 years of implementation. Government panels, United Nations and hundreds of civil society organisations across India have called for its repeal, but the issue continues to remain deadlocked," says conference organiser Binalakshmi Nepram. "Our meeting is intended to break this deadlock and to bring forward various views on the issue, so that we can consult and advise each other to the best viable solution."

The conference is an initiative of the Northeast India Women Initiative for Peace (NEWIP), a network initiated by the Manipur Women Gun Survivors Network and Control Arms Foundation of India, in collaboration with People's Union for Civil Liberty (PUCL), Indian Social Action Forum (INSAF), KRITI and others organisations.

Among the participants will be survivors of violence such as Ima Sinam Chandragini from Malom Village in Manipur, who lost two sons in the Malom Massacre of November 2000. There are also Hon'ble Members of Parliament such as Dr. Thokchom Meinya from Manipur, as well as security experts such as E. N. Rammohan, former Director General of the Border Security Force.

Enacted in 1958 as a short-term measure to allow deployment of the army against an armed separatist movement in India's northeastern Naga Hills, AFSPA has been invoked for more then five decades and since been used throughout Northeast India. A variant of the law was also used in Punjab during a separatist movement in the 1980s and 90s, and has been in force in Jammu and Kashmir since 1990.

Officials have long sought to justify the use of the law by citing the need for the armed forces to have extraordinary powers to combat armed insurgents. However, human rights abuses facilitated by the AFSPA have fed public anger and disillusionment with the Indian state.

"Not only is AFSPA a draconian law that should not have remained in force for decades, it has now become an objective of hate. It has been abused directly by soldiers, and has also created a climate of impunity and abuse that has emboldened other police and paramilitary to commit human rights violations", says Meenakshi Ganguly, South Asia Director of Human Rights Watch.

AFSPA has allowed members of the armed forces to perpetrate abuses with impunity, because certain clauses in the law provide them with relative immunity from prosecution, adds Security Analyst, Ravinder Pal Singh: "The military feels protected by AFSPA. But this has negative outcomes for the military in its discipline and professionalism. It would be useful to examine a modifying legislation that discourages possible of acts of impunity by the security forces."

The Supreme Court already has issued guidelines to prevent human rights violations, but these are routinely ignored. Following widespread protests after the 2004 murder in custody of an alleged militant called Manorama Devi in Manipur, the Indian government set up a five-member committee to review AFSPA. The committee submitted its report in June 2005, recommending the repeal of the act. In April 2007, a working group on Jammu and Kashmir appointed by the prime minister also recommended that the act be revoked. However, the cabinet has not acted on the recommendations because of opposition from the armed forces.

"All rights given to citizens under the Indian Constitution is destroyed under AFSPA", states noted women activist Mrs Lourembam Nganbi from Manipur. "AFSPA is black law which should be erased from the face of the earth. Therefore women in Manipur have taken a decision that we shall not rest in peace till this is done. We call upon all to help us in this our legitimate effort so that peace comes back to Manipur, the Northeast and the rest of India."

The conference will be held on Wednesday, 8 September 2010, from 9.00 a.m. to 5.00 p.m. at Conference Room I, India International Centre, 40 Max Mueller Marg (Near Lodhi Gardens), New Delhi. Journalists are invited to join the conference. Programme schedule is attached.

For more information, please contact

Binalakshmi Nepram at 09968233373 or Mary Khuvung at 09891513551 Visit our website www.neiwip.blogspot.com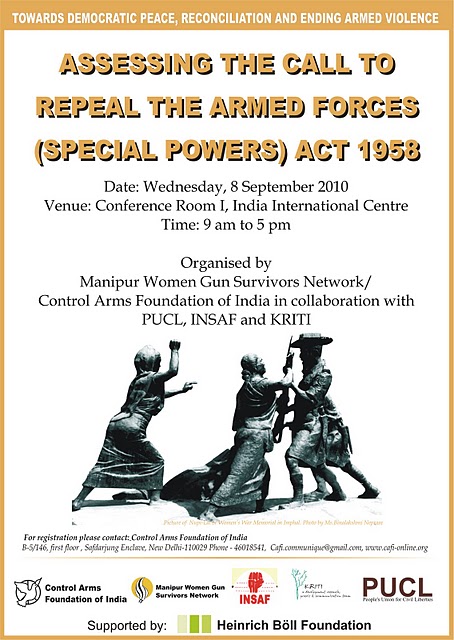 Please download Schedule
here
Or get in touch with
Manipur Women Gun Survivors Network & Control Arms Foundation of India
B 5/146, First Floor,
Safdarjung Enclave, New Delhi- 110029
Website: www.cafi-online.org
Email: Email: cafi.communique@gmail.com
Phone: 011- 46018541,
Fax: +91-11-26166234
---
This information is sent to e-pao.net by Mary Khuvung . The sender can be contacted at marycafi(at)gmail(dot)com
This PR was webcasted on September 06, 2010.
---
* Comments posted by users in this discussion thread and other parts of this site are opinions of the individuals posting them (whose user ID is displayed alongside) and not the views of e-pao.net. We strongly recommend that users exercise responsibility, sensitivity and caution over language while writing your opinions which will be seen and read by other users. Please read a complete Guideline on using comments on this website.