A brief narration of Anal Naga tribe

By: SR Tohring Anal *


Anal Tribe is one of the 'sixty six Naga tribes' of Naga ancestral homeland. The members of this tribe are found both in India and Myanmar.

In India, they are situated in the States of Manipur and Nagaland but mostly concentrated in the former.

In the State of Manipur, the Anal population concentrated in the district of Chandel and a few Anal villages are located in its neighbouring districts: Churachandpur has about three villages and Thoubal has one or two.

The Chandel district, where Anals are mainly found, has two Assembly Constituencies (AC): 41 A/C and 42 A/C.

It is forty one Assembly Constituency where the majority of Anal lives. The Anals, in Myanmar, reside in Sagaing sub-division. The Anal population in this part has been dwindling.

At present, there are three Anal villages, viz., 'Nga Kala, Napalun and Haika'.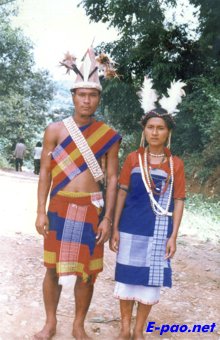 Aanal couple in their Traditional Attire.



The Anals, in yore days, had no problem to move or visit Anal areas now in Myanmar and vice-versa.

However, with the demarcation of boundary, they came under two distinct units and the consequent restriction imposed on the movement of the people of both sides, the Anals had to stop such free movement between them.

Consequently, there has not been any interaction between the members of the same tribe bifurcated and exists under two different countries.

The Anal community is one of the oldest inhabitants of the hill areas in Manipur state. The archaeological findings at Chakpikarong also point it.

Despite this, the numbers of Anals remain small. According to 2001 Census of India, the Anal population is 13,853, 1991 census placed as 12,034 and 1981 census enumerated as 9,345.

The Anal is recognized as a tribe in Manipur since 1951. Therefore, Anal is one of thirty three (33) tribes in Manipur and is one of nineteen (19) Naga tribes of Manipur.

The ancient religion of Anal is usually referred as 'animist'. Since early 20th century, the Anals began to embrace Christianity:

Between 1910 and 1920, there were a few Anal Christians. Gradually, Christian population increased despite persecution and hardship. Today, 99% of Anals are Christians.

The Anals' political system, since time immemorial, is democratic in nature and practice. This could be evinced by the election of village authority: the chief and his associates are elected by either voice vote or raise hand.

In social practices, many of them are unique. One conspicuous trait is division of tribe's clans into two distinct groups, viz., 'Moshum' and 'Murchal'. Such as marriage can occur between the members of these two blocks, if any, intra-marriage prevails, it leads to ostracism of the concern couple.

The economy of Anals is primarily based on crude agriculture.

However, with the increasing rate of literacy, the life standards of Anals look positive.

It is a common belief that with a little more input for the development of this tribe, one will see a transformed Anal tribe in a few decades.


---
SR Tohring Anal wrote this article for The Sangai Express . This article was webcasted on January 04th, 2007
* Comments posted by users in this discussion thread and other parts of this site are opinions of the individuals posting them (whose user ID is displayed alongside) and not the views of e-pao.net. We strongly recommend that users exercise responsibility, sensitivity and caution over language while writing your opinions which will be seen and read by other users. Please read a complete Guideline on using comments on this website.