Cultural Heritage Complex
- Part 7-
By: Mutua Bahadur *



Traditonal Paintings

The movement of paintings in Manipur is a late phenomenon, which started with the work of Ningthoujam Bhadra Singh (1861-1927). The paintings are found in various themes Such as Gods and Goddesses of Hindu religion, Boat races, Expedition of Maharaja Chandrakriti and epic story of Khamba and Thoibi of Moirang Kangleirol. These paintings are used to exhibit on the wall of frontal shed of the different houses and outdoor houses of well to do families, courtrooms and temples.

The Hindu temples and mandaps are well decorated with the paintings based on the themes of Hindu mythic creatures. Most of the paintings are sketched in cloths, papers and wooden planks etc. and in the medium of water colour.

There are also other paintings in the old scriptures, texts before 19th century.

TYPICAL KUKI HOUSE

This typical house of Kuki tribes of Manipur, who are inhabited in the districts of Churachandpur and Sadar Hills, is known as Malai Kuki Inn. The house is 11.10 m. and 4.80 m. in length and breath respectively. There are pillars, lower horizontal beams, cross beams and lower roof supports that all made of wood.

The roof of this house is covered with thatch and used bamboo split for upper roof supports. The wooden plank is important for making pile dwelling. The mate of bamboo chip makes the wall of the house. The wild creepers and paya (a kind of thing that tightening two joining) are used to fasten the joining of the house. There is a fireplace in the house.

We exhibited the Facsimiles of stone inscriptions that we found in Manipur in this traditional Kuki house. Here, we also displayed the photographs of the coins, which were the currencies of the different states of Northeast India. (Original coins are exhibited on request). The various coins and notes of Southeast Asia are also displayed in this house.

Stone inscriptions (Facsimiles):

In Manipur, the inscription on stone is done in relation with certain remarks



FIG 7

FIG 8

FIG 9

FIG 10

FIG 11

FIG 12

FIG 13

FIG 14
such as installation of boundary pillars, public orders of the King, inauguration of temples and ponds, any major eventuality that happens in the society like famine, draught, epidemic, and war expedition. The earliest stone inscription which is inscribed in Meetei script can so far be dated upto the reign of King Khagemba (1597-1652). Many stone inscriptions of Meetei King also found in Myanmar, Mizoram and Nagaland.
The inscriptions in Devanagari script along with Bengali script are also found from the time of King Chourajit (1803-1813). The stone inscription which portraits the war implements is the only one which was installed during the reign of King Garibaniwaj in Tipaimukh of Bhangai range (Churachandpur District) that demarcate the boundary between Manipur and Mizoram. This inscription carves the pictures like elephant, horse, arambai (dart), bow and arrow, shou (trap) and guns etc.
There is a practice of inscription of the names of two successive Kings on the same plate of a stone. It is found in Konthoujam Lairembi. On the top, the name of the King Khagemba is inscribed and the names of the King Charairongba is in the bottom.
The locations, where the stone inscriptions were found so far are:
1) outside of the eastern gate - Khoibu Pal,
2) inside of the eastern gate - Tarao Pal,
3) outside of the western gate -Haochong Pal,
4) inside of the western gate - Kharam Pal,
5) Konthoujam Lairembi, (Konthoujam),
6) Khagemba Laikon (Koirengei),
7) Heisnam Lairembi (1st M.R. Bn., Compound),
8) Soraren Laipham (Kumbi),
9) Ningel,
10) Wangoi,
11) Thiwa,
12) Bihang (Churachandpur District), and
13) Sanalok (Ukhrul District) etc.
See an accompanying gallery on this here.
To be continued ....
---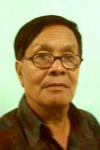 Mutua Bahadur



* Mutua Bahadur contributes to e-pao.net regularly. This article was webcasted on June 30, 2010.


* Comments posted by users in this discussion thread and other parts of this site are opinions of the individuals posting them (whose user ID is displayed alongside) and not the views of e-pao.net. We strongly recommend that users exercise responsibility, sensitivity and caution over language while writing your opinions which will be seen and read by other users. Please read a complete Guideline on using comments on this website.