Cultural Heritage Complex
- Part 4-
By: Mutua Bahadur *

Fig 16
Cane and Bamboo Crafts
The products of cane and bamboo crafts are abundantly found in Southeast Asia as in Manipur and its neighbouring states. They commonly used conical baskets for carrying things in the agricultural field and market. There are storage baskets for stocking edible foods like fishes, chilies, etc. The men-folk of this community used a carrying basket while they work in the agricultural field and jungle. They used fishing basket and other implements like traps in different forms and sizes while they catch fishes. There is also a container basket for every house to keep things in proper manner.
All the products of cane and bamboo crafts are well exposed in the smoke by putting over the fireplace in order to protect them from worms and insects. Following the two techniques of outer decorative weave and inner basic weave makes the storage basket for valuable objects. Sometimes the dry leaves are attached between the outer decorative weave and inner basic weave. This technique helps them to protect the containing objects from the water.
The different implements used in loin loom are almost made of bamboo. Out of bamboo different forms of hair combs and pins are also made. The containers, made of cane and bamboo for drinking water, are painted with Khe oillac. They used to practice of permanent dying by using wild creepers.

Fig 17

Fig 18

Fig 19

Fig 20
Musical Instruments
The musical instruments are stringed instrument, solid instrument, Gong, Cymbal, small Cymbal (locally known as mandila) and Upum (Hollow wood), etc. The different kinds of drums used in different festivals and ceremonies are also there. The wind instruments like Tharaochi, Conch, etc. all made of bamboo, are also exhibited. The stringed instruments are Pena, Ollobii kada, Tingtila, and Saringda etc.
There was a drum known as Tanyei Pung in the Royal Palace. It was used to indicate time since the 2nd century in Manipur. The height of this drum is 90 cm. and its mouth is of 1.20 m. diameter. There was also an instrument for measuring and counting the time near the drum. The major components of this instrument were the two undress wooden icons of Yangdouba (God) and Yangdoubi (Goddess) and 8 Kangkhils (a kind of seed like kneecap shape). The height of these icons is 20 cm. These parts are arranged in a manner that the Kangkhils are putting in between the two icons in parallel and then it is pinning in the middle by a straight cane thread.
There was an earthen pot containing water in full near this instrument. This pot had 10 cm. in height and 40 cm. in circumference of the inner bottom. One cup having a pinhole at the bottom was floating on the water. When the cup sinks into the water one Kangkhil will move across the Yangdouba. Then count an hour beat the drum. In the same manner beat the drum for every moment of sinking the cup.

Fig 022

Fig 22

Fig 26
See an accompanying gallery on this here.
To be continued ....
---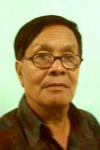 Mutua Bahadur



* Mutua Bahadur contributes to e-pao.net regularly. This article was webcasted on April 26, 2010.


* Comments posted by users in this discussion thread and other parts of this site are opinions of the individuals posting them (whose user ID is displayed alongside) and not the views of e-pao.net. We strongly recommend that users exercise responsibility, sensitivity and caution over language while writing your opinions which will be seen and read by other users. Please read a complete Guideline on using comments on this website.