Rock is back !!!
– Recycle and Boomerang Concert -


By:- ImpRock.com *

RECYCLE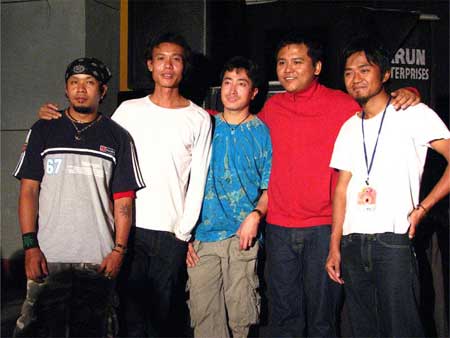 Left to Right - Somendro(Bungo), Kiran, Biswajit, Michael, Bode
On 21st April, "Come as U r", the highly anticipated concert at BOAT began with Recycle and Bhagat performing a fusion of "penao" (as Bhagat prefers to call pena as penao) and western music. It was a fantastic job, everybody loved it. The crowd who was little frustrated and irritated as the show began a little late due to some technical problem, became much calmer.

Recycle then took over the stage, and started belting out numbers old and new. Numbers that every rock crowd wanted - high voltage tight rock songs started to make the crowd go head banging. Recycle began with Slither (Velvet Revolver), Circle (Incubus), Gasoline (Audioslave), Interstate Love Song (Velvet Revolver), Pride (U2), Yellow (Coldplay), Simple (Collective soul) and Dani California (RHCP).

It was a unique performance. The band has a kind of bonding among the band mates, which no bands in the Imphal rock circuit has. They have a clear sounds cape and very professional. Besides, they had been practicing for almost a year. Their consistency is a rare scene in Imphal. "Circle" was greeted by youngsters with loudest cheers and they jumped out and head banged so hard.

Then came "Pride", which reminded them of U2 once again, and adult section of the crowd had a great time humming along with the vocalist, especially in the chorus part. The band did an extended crowd charming in the chorus part. "Pride" was followed by "Yellow", which was liked by all and BOAT was filled with so much enthusiasm, which was further heightened when the paper cuttings of all color were sprayed from the sky.

"Dani California" ended their performance of the night. The complaints and grudges that the crowd had at the beginning of the show had vanished in thin air. Nobody would have believed that the crowd was so frustrated before the show. The show was a complete success.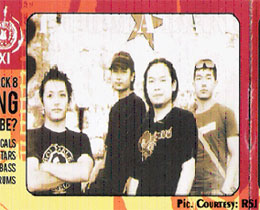 Boomarang



Then Boomarang stepped up and made the crowd rolling once again with their original and RATM numbers. The show was a grand event and revived rock in the region once again.

Since this show, rock enthusiasts have once again started thinking that rock is not dead. This was clearly visible when the crowd was seen humming the U2's unforgettable "Pride" as they left BOAT.

Watch the animated video "Whats wrong with the world" from Boomarang. A must for every Boomarang fan.

boomarang_whats_wrong_with_the_world.wmv (**Explicit Lyrics**)
Produced by: Underground Studios
Animated by: Atea
Recorded at : VictorDa Scavenger Records





X-Jam 2007



After hardly a week, X-Jam 2007 happened on 28th April. Imphal witnessed X-GAMES stunts for the first time. The stunts were great and very daring. A kid of just 4 yrs old put up a fantastic skateboard show. The background by Li'l thug, hip-hop artsite from Lamphel, was nicely rendered.

Recycle once again showed the crowd what they are made up of. The crowd was sarcastic when Recycle stepped up; thinking what would those old rockers do. But they were wrong and didn't know that big surprises were in store for them. Recycle played Slither, Gasoline, Pride, Simple and Yellow. The use of mega-mike in Simple was a new experience and the crowd loved it.

I heard some remarks from the crowd like "Where were you before?", "You guys rock.", "Old rockers really rocks.". That was during and after their performance.

The comments before the performance were "Go home, attend to your kids", "Bulging bellies, sucks", "Uncle, who told you to come to rock concerts" and lots of F words.

Recycle just smiled at such remarks and they still smiled when the crowds became crazy at their songs. This is the professionalism of Recycle.

But, ATTITUDE-X and SKAT PARK ASSN. who organized X-JAM managed to pull off the show in a grand way. This has reassured all the rock fans that rock is alive and rocking in Imphal.

That was "Come as U r" and "X Jam 2007".

Coming up: ATTITUDE X is organising a classical guitar festival in the next two weeks. Updates will be available at my site ImpRock.com. Please check them out.



Linux Manipur proudly presents the review of the recently concluded concerts "Come as U r" and "X-Jam 2007"
---
* ImpRock.com provided the detail on this Rock Review. They can be contacted at mail(at)improck(dot)com . This article was webcasted on May 04th, 2007


* Comments posted by users in this discussion thread and other parts of this site are opinions of the individuals posting them (whose user ID is displayed alongside) and not the views of e-pao.net. We strongly recommend that users exercise responsibility, sensitivity and caution over language while writing your opinions which will be seen and read by other users. Please read a complete Guideline on using comments on this website.