Iron Maiden - 17 Years indian Itch
By: Marc *



All you hardcore headbangers, If you were not at Palace Grounds Bangalore on 17/Mar/2007, then you missed a ball.

The gates opened at 3pm but people were already at the venue much before it. NDTV channel reported of guys who waited at the gates overnight. I also know of Manipuris who got up and went over to the venue first thing in the morning. Well, I started a lilttle late after lodging a complaint to the Sun God for its blaring heat. The roads leading to the grounds gets more and more jammed as we approach the venue. Is Bangalore or India filled with so many metal fans or what?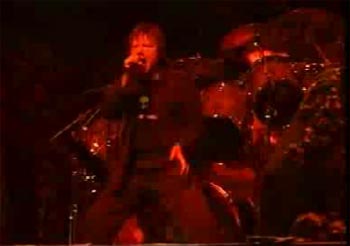 Scream for me! BANGALORE
Vocalist Bruce Dickinson @ the concert
The sea of black t-shirt clad people with many of them displaying the Eddie (Iron Maiden's mascot) greeted as soon as I enter the security gates into the grounds. And mind you, many of them were females too.

Two days earlier to the concert, an Iron Maiden T-Shirt was sold for around 250 INR in the streets of Bangalore and it promptly jumped to 450 to 550 range on the concert day. And would you beleive, it was sold for 800 inside the venue? And there were guys who picked 4/5 of them.
Man, are they some fans or what?
I went thinking that it would make my day and the money's worth if I can see "The Trooper", "Number of the Beast" & "Revealations" performed live by the guys who recorded them in the first place.

They did not play Revealations but I got Wrath Child, Hallowed be thy name, Iron Maiden, Fear of the dark Run to the hill, & 2 minutes to midnight instead. I got to hear new tracks from the 'Matter of live and death" album which I am considering buying now.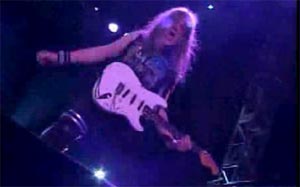 Guitarist Janick Gers on stage @ Bangalore
Iron Maiden received an defeaning roar of approval when they came on stage. I didn't even understand what the first number was as the guys around me wont stop cheering with arms lifted to give the heavy metal salute (corna) to their Rock God live on stage.

The stage was truly amazing. It had an abandoned bunker with Nikko sitting well within it banging away on the skins. The back drop was awesome and there were multiple paintings which were being changed for each number.

There were lights and the Union Jack being waved as Bruce usually does during the rendition of 'The Trooper'. As the lines "wherever, wherever you are, Iron maidens gonna get you, no matter how far" were being sung, a huge war tank was raised on the stage.

The man hole opened and Eddie got up to check the crowd with binoculars. Everybody went beserk. Eddie later walked out into the stage with a machine gun in hand making the crowd go even wilder.

It was an evening well spent and I am glad of being part of the day.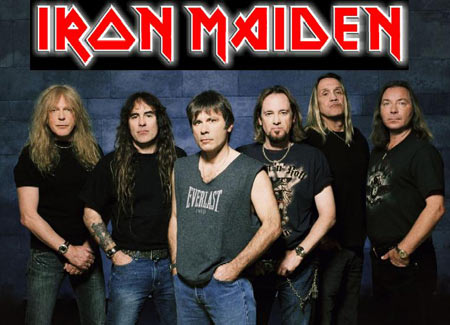 - Iron Maiden -
L-R: Janick Gers, Steve Harris, Bruce Dickinson, Adrian Smith, Nicko McBrain, Dave Murray
Iron Maiden was undoubtedly awestruck by the fans that greeted them at Bangalore. Bruce took pride on having chosen India as a venue in the recent Maiden's world our with full gear for a Heavy Metal gig as he announces that when other acts follow, he would say "You think you are so f* smart. We've already been there".

He added that "India dont need to wait another 17 months" as he acknowledges that India has waited for 17 years for this gig. One nice thing he acknowledged on stage was the fact that people came from all over India for the concert.

I saw many Manipuri faces smiling as they shouted "Yeah" in unison with so many others in the crowd who have travelled for that evening.

And oh about the F word, I should say they were rather used quite liberally starting with Nitin. And yes, that reminds me of the opening acts.

FTN got booed out of stage and Lauren Harris was not good. Parikrama was good.

Very good as they presented an all original round up of songs including one which was played for the first time here at Bangalore (forgot the name of the track).


---
* Marc contributes on and off to e-pao.net.
This article was webcasted on March 18th 2007.
---
* Comments posted by users in this discussion thread and other parts of this site are opinions of the individuals posting them (whose user ID is displayed alongside) and not the views of e-pao.net. We strongly recommend that users exercise responsibility, sensitivity and caution over language while writing your opinions which will be seen and read by other users. Please read a complete Guideline on using comments on this website.