Imphal Talkies N' The Howlers sing for Dr Kishan
Debut album Tiddim Road released in New Delhi

Ozzyjane Laishram *
Triggering off protest against the current social and political turmoil in Manipur, Imphal Talkies N' The Howlers dedicate a song titled Ballad of Kishan to late Dr Thingnam Kishan and his staff members, brutally murdered by cadres of NSCN(IM).

"We dedicate our work to Dr. Th. Kishan and it is a wakeup call to the region's slumbering masses and the authorities that constantly neglect the pain of suppressions experienced by the people for decades," says Ronid (Akhu) Chingangbam, lead member of the band Imphal Talkies N' The Howler.

Imphal Talkies N' The Howlers is a newly formed rock band ready to make its presence felt in region's music scenes. The band released their debut album Tiddim Road on 25 February 2009 in New Delhi.

Talking about the debut album comprising eight songs that fill up certain cavities in the region's contemporary rock music, Ronid says that every song in the album is one way to explore the nuances of the politics driven by ethnic and socio-cultural dimensions in Manipur. The five-member band has been recently joined by a promising musician and guitarist Raju Athokpam before recording the Ballad of Kishan.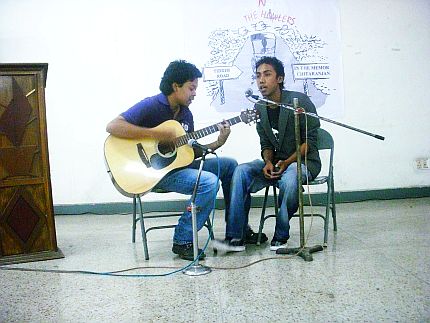 Ronid rendering Nangbu Kanao with a co-artiste
In cooperation with E-Pao, a leading news portal of Manipur, Imphal Talkies N' The Howlers produced its debut album Tiddim Road, which was released and distributed simultaneously in four major cities: Delhi, Bangalore, Mumbai and Imphal. The band boasts of being the first ever Manipuri rock band reviewed by the Rolling Stone (Indian edition) magazine for its unique genre and prevailing lyrics prior to the release of
Tiddim Road
. "Regardless of language they sing, the songs of Imphal Talkies N' The Howlers are rather a voice of youth blends with both aesthetic and musical excellences," comments Dr. Ashley Tellis, a music critic who contributes to the
Rolling Stone
magazine.
Along with enthusiastic fans, prominent personalities from different universities in Delhi made the audio release function eventful. Dr. Baghat Oinam, Centre for Philosophy, Jawaharlal Nehru University and Dr. Tabish Qureshi, Department of Physics, Jamia Millia Islamia attending the event as special guests appreciated Imphal Talkies N' The Howlers for their ideology to use music as a medium of protest.
Inspired by Bob Dylan, Jim Morrison, Roger Waters and regional musicians like Aheibam Budhachandra, each song of
Tiddim Road
were penned by Ronid.
Rendering Bob Dylan's popular number like
I Shall be Released
and
Kanano Nangbu
from their debut album, the music release event turned into some kind of a workshop on how creativity can be politically sensitive. While condoling and protesting the killing of Dr. Th. Kishan, many young poets present on the occasion also recited self-composed poems and also read out works by renowned Manipuri poet Thangjam Ibopishak.
Each song of the debut album
Tiddim Road
is quite unique.
Imphal Sahar
in the album is a splendid combination of realist lyrical value with that of psychedelic experience. What looks like a simple vocal rendition by Riki Chingangbam, is characterised by a complex blending of realities with abstractions.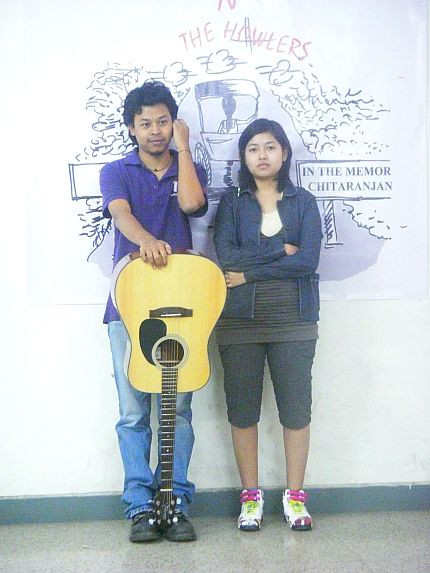 Ronid and Riki of Imphal Talkies N' The Howlers
In a shooting voice, Riki says, "Since my idea of music has been deeply influenced by artistes like Joan Baez and Janis Joplin, I'm quite satisfied and thrilled with the number
Imphal Sahar
".
And another novel package of Imphal Talkies N' The Howlers is the guitarist Sachidananda Agom who had rendered his voice for
Pirang
. He has an unmistakable grinding tone that perhaps resembles with that of death metal singers but effectively used for the band's unique genre.
And Ronid's unadulterated natural voice is a big break from the highly standarised and pretentious road that many vocalists have taken guided by oriental and occidental music schools. He is adept at converting inward feelings into a melody not suffocated by set norms.
Recorded at Sallow River Studio (Imphal), foremost quality of the album
Tiddim Road
is its acoustic excellence independent from electronic instrumentation and programming.
Pirang
in the album is the only song using electric rhythm or lead guitar. Session artistes in the band—bassist Michael and drummer Somo—are ex-members of the then distinguished rock group 'Recycle'.
Composing hundreds of poems inspired by the American Beat Movement of the 1950s to 1970s, Ronid formed Imphal Talkies N' The Howlers after his association with Sachidananda. The duo's interest was not only in music but also classic literature at large.
To reach the town of love tales Moirang in the vicinity of the beautiful Loktak Lake, one has to take the Tiddim Road, which connects Manipur with the Chin State in Myanmar. Besides what the road denotes, Tiddim Road in Manipur's recent history has been associated with so many modern tales of social and political horror.
Tiddim Road and what it connotes seems to be changing over the years. The title song in the album is not just another poetic metaphor in praise of the natural landscape along the road. It speaks loudly the spasm people feel in the war zone like Manipur where tourist centres and spots are dotted with army and paramilitary personnel under the shadow of fear of bullets and violence.
And most of all, Tiddim Road is where Indian armed forces massacred twelve civilians almost a decade back. This event also prompted
Irom Sharmila Chanu
to fast unto death in protest against the draconian law
Armed Forces Special Power Act, 1958
imposed in the region.
Every song in the album noticeably delves into issue-based content; it may make an array including poverty, political disorder, lawlessness and much more.
---
* Ozzyjane Laishram contributes to e-pao.net regularly. The writer can be reached at ozzyjane(at)gmail(dot)com
This article was webcasted on 22nd April 2009.
---
* Comments posted by users in this discussion thread and other parts of this site are opinions of the individuals posting them (whose user ID is displayed alongside) and not the views of e-pao.net. We strongly recommend that users exercise responsibility, sensitivity and caution over language while writing your opinions which will be seen and read by other users. Please read a complete Guideline on using comments on this website.