Miseries befall, human endures, but what happens?
- If it amounts to Neck-Break -
RS Jassal *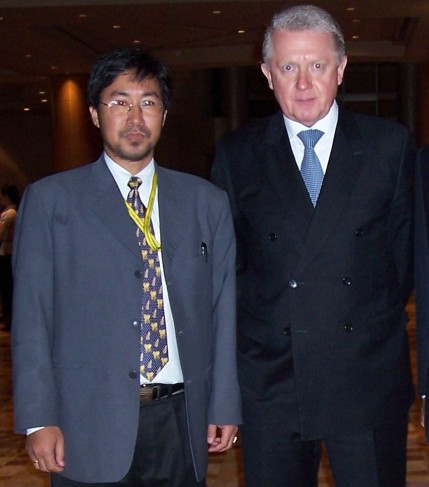 Oken Jeet Sandham (left), President of Muaythai Federation of India (MFI) with Hein Verbruggen, President of General Association of International Sports Federation (GAISF) during IFMA World Muaythai Championships held at Bangkok


Please read on - One young man from Manipur (Meitei origin) fell in love with a girl from Nagaland (Chakesang origin), extremely sincere, dutiful and beautiful as well. Both raised beautiful, homely family and got popular in their respective families and friend circle, now with a son and a daughter.

Youngman adopted journalism as career and while in Nagaland rose to the position of President of Working Journalist Union, Nagaland and also became first Meitei Editor in Nagaland that too during most tumultuous days in the history of Nagas - Meitei's hate campaign fuelled by some vested interests; say in turn of 21st Century. Not only he became Editor, but he contributed tremendously in journalistic measures to ameliorate the sour turning relationship into sustainably friendly one which Nagas and Meitei have been sharing since centuries. Now look at the turn of events.

In the second half of June 2009, Doctor at Kohima (Naga Hospital) detected brain tumor in the head of his wife. So, on 22 June, 2009, she was airlifted to Guwahati and the tumor was removed successfully and the lady in this write-up was discharged on 31 Jul 2009 to come back home to join her children and delighted her parents, husband, friends and relatives.

While at home (Kohima) she suddenly collapsed and was shifted to Naga Hospital on 22 August 2009. As and when I passed through Kohima (in my car) I made it a point to call on him and I always found him in hospital. During my recent visit to Nagaland Hospital Kohima it pained me at seeing father with his children were found attending their beloved mother.

Briefly to put, his wife is in the ICU since then without break. Doctors do not allow her shift to Guwahati or Delhi with genuine fear that she should shift only once fit to undertake journey. I am told her condition is improving and looked better but I failed to understand why not being allowed back home and continued same treatment.

Here comes the human links and pride in profession. Doctors take pride in curing her and allow her to be out in tolerable condition only to move to Delhi or elsewhere. I am told doctors are so concerned that they consult other outside specialists through medical connectivity systems. But imagine continuous stay in ICU since two years - the longest ever such case and a case for Guinness Book entry.

Incidentally, he lives at Kohima and married to Aneile Kenye, is daughter of Pastor Melhite Kenye, whose name is recognized by the Guinness World Records, London for the tallest paddy in the world. It may be mentioned that Aneile Kenye has a close family lineage with Geopra Kenye, who played key role at the time of Nagas fighting for their cause.

Oken Jeet Sandham is a very serious and very outspoken journalist. He is also associated with various national newspapers and magazines, besides Editor of NEPS, an independent news agency. In fact, he has contributed immensely in the field of journalism over the years and more so while the center started taking initiatives to find solutions since mid-90s.

His services in the field of sports as a prominent sportsperson are worth recalling. He became president of the Muaythai Federation of India (MFI) and also Vice Chairman of the Development Commission of International Federation of Muaythai Amateur (IFMA). He led Indian Teams to various International Muaythai Championships and Olympic Events like Asian Games 1998 Bangkok, SEA Games 2007 at Korat Thailand, World Sports or All Games 2008 at Busan, South Korea etc. In fact, he had introduced our boys and girls particularly from Nagaland and Manipur to the World of sporting arenas for almost two decades. Many of them also won laurels for the country as well.

Isn't it a miracle what doctors are performing. I have no idea what will be the daily medication expenditure but the way He Shri. Nikhil Kumar, the Governor of Nagaland, Hon'ble CM Shri Rio, other Ministers, MLAs both ruling & Opposition visited her & extended financial and moral support to keep the couple in sporting spirits, is just unimaginable. It reminds me of age old Upanishadic Indian thought of caring & sharing pains of others. It is learnt their college going son had to be withdrawn from hostel due to financial constraints as well to share father's duty in shifts to attend to his mother.

Under these circumstances, I wonder if Press Trust of India can do something by extending financial helps and other support and moving the Hon'ble Ministries of Information & Broadcasting, Health care & HRD at Centre to look into the matter, notwithstanding, what the journalist fraternity from NE can do and are rather doing for them.

Hope A Mobi Singh, President Manipur Working Journalist Union, is listening. I thought I would be incomplete if I don't do something for this friend by way of conveying to well-wishers particularly media fraternity in Manipur and Press Council of India and also Government of Manipur/India if they could do something to help our friend in sustaining further treatment of his wife who is struggling in ICU, Naga Hospital Kohima for the last two years.

Readers must be keen to know who this couple is. It is no one else than my friend Okenjeet Sandham & his dear wife Madam Aniele. Okenjeet has recently taken over as Secretary of Kohima Lions Club. I wish Aniele early and sound recovery with both my hands cupped up to HIM, the merciful, Akal purakh!


---
* RS Jassal wrote this article for The Sangai Express
This article was webcasted on July 30, 2011.
---
* Comments posted by users in this discussion thread and other parts of this site are opinions of the individuals posting them (whose user ID is displayed alongside) and not the views of e-pao.net. We strongly recommend that users exercise responsibility, sensitivity and caution over language while writing your opinions which will be seen and read by other users. Please read a complete Guideline on using comments on this website.