Rajkumar Jhalajit Singh's (1924-2021) contribution in the historiography of Manipur
Kakchingtabam Ruhinikumar Sharma *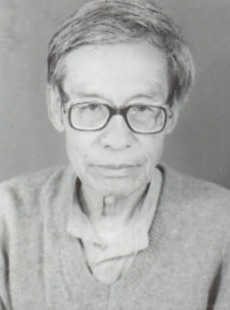 Rajkumar Jhaljit Singh :: Pix - Donny Luwang


The ultimate curtains down has arrived for Rajkumar Jhalajit Singh (1924-2021), historian, teacher, poet, literature and above all a social and political activist, firm believer in Gandhian philosophy of simple living and high thinking. Respected in academic circles for his frank opinion and observations, yet derided by critics for his political views for sailing against the currents of his time.

In his passing away, Manipur has lost a precious son who was deeply committed to the idea of Manipur. A true son of the soil, a firm believer in harmonious existence, soft-spoken to all without the barrier of officialdom and age, such was the persona dignified called Rajkumar Jhalajit Singh.

In short, he may be described as the last of the vanishing tribe of a Manipuri Bhadralok literally 'gentleman', 'well-mannered person' for the new class of 'gentlefolk' and modern western educated who arose during British rule in Manipur. These are my personal opinions of Oja Rajkumar Jhalajit Singh, the historian who pioneered a new historiography of writing a history of Manipur.

Born on 14th September, 1924 at Yaiskul Hiruhanba Leikai, Imphal, to late Maipak Sana and Ningthemcha ongbi Rajani Devi, Oja Jhalajit has been honoured with many coveted awards including the Padmashri in 1999. Started his early education at Yaiskul Nupimacha School, Pattigrew L.P. School, Moirangkhom Upper Primary School, Johnstone High School till 10th standard. He studied at Gauhati Cotton College for graduation and completed his Master in Economics and LLB from Calcutta University.

As already mentioned he was deeply engrossed with the idea of Manipur and this very idea prompted him to explore and discover Manipur as reflected in "A Short History of Manipur" (1965), "Manipur" (1975), "A History of Manipuri Literature" Volume I (1976 and 1987), Volume II (1998), "Bharatki Swaraj" (a translation of Gandhi's Hind Swaraj, 1995) and in addition innumerable essays including a serialised autobiography and a book of poems "Kavita Nikunja" (1997).

He also laid his hand in journalism as editor of "Anouba Matam", a Manipuri daily newspaper for some time. In 1999, Oja Jhalajit published a book titled "Manipur from 1508-1709" as a reading text for higher secondary students under the Council of Higher Secondary Education, Manipur. Objection from some quarters forced the withdrawal of the book's circulation over the remarks and observation made by the author which was deemed to be contrary to the views of the time.

The present writer being trained in the discipline of history would like to focus on the contribution of Rajkumar Jhalajit Singh as a historian based on his "A Short History of Manipur" (1966). Before coming to the assessment of the late historian's work allow me the liberty of penning a few lines on the state of historical knowledge in Manipur prior to Jhalajit's magnum opus, "A Short History of Manipur" (1966).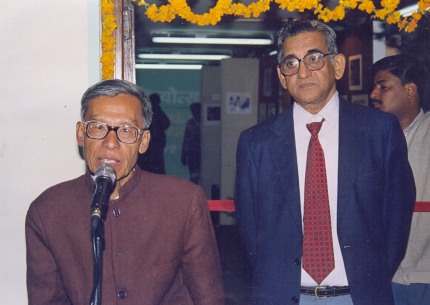 Rajkumar Jhaljit Singh at an Award ceremony :: Pix - Donny Luwang


The historiography of Manipur can be broadly divided into three categories viz, i) traditional Meitei historiography, ii) colonial historiography, and iii) contemporary historiography. The ancient Meiteis possessed a strong sense of history. Their traditional concept of history is Pu-Wari (story of forefathers) which is more or less nearer to Sanskrit concept of Itihasa-Purana rather than Greek concept of 'historia' or English 'history'.

The Meitei concept of Pu-Wari consists of legends, genealogy and historical accounts of their country besides the cosmological traditions, origin and genealogies of the clans, the religious accounts, the dynastic accounts of the clan chieftains are given a prominent place. Chronicles with or without chronology forms the core of historical literature of Manipur. There was no separate discipline of history as such; history or historical knowledge was a part of the whole knowledge.

The Sanskritisation of Manipur which was a direct outcome of the large scale conversion of Meiteis into Hindu religious fold in the 18th century had given a Sanskritised orientation to the growth of historical knowledge. Attempts were made by scholars with royal patronage to identify the land and people which was reflected in the chronicles and genealogy of the ruling Ningthouja dynasty.

The Hindu eras were adopted thereby giving a chronological sequence to the traditional Meitei/Manipuri practice of keeping chronicles. The best example of this new practice was found in Cheitharol Kumbaba, the royal chronicle of Manipur kept and maintained by the Pandit Loishang (Royal College of Priests).

Haodeijamba Chaitanya's 'Manipurer Itihas' published in 1890 though given a Bengali title may be considered as the first attempt at writing history of Manipur based on indigenous sources. It was followed by Pukhrambam Parijat's Manipur Purabritta (1917), Manipur Itihas (1918), Khumanthem Kaomacha's Manipur Itibritta (1933), Mutum Jhulon's Vijay Panchali (1939) and Atombapu Sharma's Manipur Itihas (1940) were influenced by Indian historiography.

These accounts show how the religious ethos of pre-Hindu Meitei religion, Vaishnavism and Aryanism etc. played a very influential role in the traditional Meitei historiography. After the formal commencement of Anglo-Manipuri relationship and more particularly after the conclusion of the first Anglo-Burmese War (1824-1826) and subsequent Treaty of Yandabo, colonial historiography had germinated its seed.

R.B. Pemberton's Eastern Frontier of British India (1835) was the first attempt in this direction. It was based on James Mill's history of British India (1819) which was followed by William McCulloch's Account of the Valley of Manipur and Surrounding Hill Tribes (1859), Dr. R. Brown's A Statistical Account of Manipur (1874), E.W. Dun Gazetteer of Manipur (1886, 1891), James Johnstone's My Experiences in Manipur and Naga Hills (1895) whose writers were British officers posted as Political Agents in Manipur.

These works deal with a portion of Manipur history, but history as such was not attempted. In Alexander Mackenzie's History of the Relation of the Government with Hill Tribes of North Eastern Frontier of British Bengal (1884) devoted a portion on the history of Manipur which is considered an important contribution to the colonial historiography. Robert Reid's History of Areas Bordering Assam (1942) which contains a portion of Manipur history was a mere documentation work.

Of the ethnographic accounts mention may be made of T.C. Hodson's The Meitheis (1908), The Naga Tribes of Manipur (1911), John Shakespeare's Lushai Kuki Clans (1913) provides valuable information on the life, beliefs and practices of the ethnos. The Anglo-Manipur War of 1891 elicited a lot of interest among certain sections of Indians particularly more so amongst the Bengalis. Due to the constraint of space, only two works are mentioned.

Janakinath Basak, a small-time trader who happened to be present at Manipur during the tumultuous days of Palace Revolution of 1890 and consequent Anglo-Manipur War of 1891 had written a highly dependable account entitled "Manipur Prahelika" (1891) giving an eyewitness account of what transpired during the trial of 'Manipuri' rebels. Janakinath Basak was the only unofficial who attended the trials of Tikendrajit as he acted as interpreter cum counsel of the accused Prince.

Basak's book was soon followed by Mukundalal Chaudhury's "Manipurer Itihas" (1892 & 1909). These two accounts are well-written ones with important documents and photos and illustrations. Apart from historical narrations, both these accounts also deal with various aspects of Manipur's social, religious, economic and cultural life providing mine of information regarding Manipur to the outside world.

However, one major criticism against these accounts is a portrayal of Manipur within the pan Indian Brahmanical model of history writing and depicting Manipur as one of the ancient land of Aryabrata resulting in the portrayal of Manipur as extension thereof.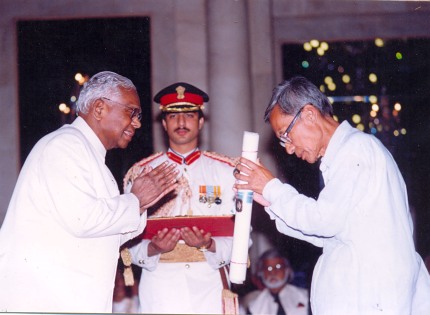 eceiving Padmashri in 1999 by the then president of India K.R. Narayan :: Pix - Donny Luwang


The theory of Manipur having a connection with Aryabrata has been severely criticised and rejected as a mere concoction by later scholars. This model of history writing too was followed by later scholars like Wahengbam Yumjao (Manipur Itihas, R.K Sanahal (Manipur Itihas, 1947). Jyotirmoy Roy, who joined the history faculty of Dhanamanjuri College, Imphal in 1951 made a substantive contribution in the study of Manipur's past by the publication of "History of Manipur" in 1958.

J. Roy's book truly filled in the long-felt need of a standard book on Manipur History. But on major weakness of J. Roy's work is his ignorance and near absence access to the local sources written in local language resulting in his scant treatment of ancient and medieval Manipur up to the beginning of 18th century as 'Puranic' and 'Unaccounted Period' which mars the quality of this otherwise highly readable account.

An alternative approach which may be considered a paradigm shift in studying Manipur's past history was the publication of R.K. Jhalajit Singh's A Short History of Manipur (1965), which was mainly based on indigenous sources, particularly Cheitharol Kumbaba and Ningthourol Lambuba. Jhalajit's objective of writing history was to present a history of Manipur in the perspective of the growth of the Meitei kingdom and expansion of Aryan culture in Manipur. It was mainly a history of the Ningthouja dynasty from the early period to the middle of the twentieth century.

The publication of the history may be considered as another important landmark in the historiography of Manipur in the post-independence period. What Professor Gangmumei Kamei had observed about Jhalajit's work aptly describes the importance of the scholar, "The history covers all the periods of history, ancient, medieval and modem from the first century to the Merger of Manipur to the Dominion of India (1949).

He utilized the indigenous sources in Manipuri language and the British archival sources. His objective was to record the expansion of Aryan culture and Hinduism to Manipur. He was under the influence of Brahmanical School of history writing that the Meiteis are ethnically and linguistically Indo-Aryan". Thus R.k. Jhaljit's celebrated work continues to receive acclaim and condemnation from many quarters.

However, Jhalajit and other scholars who followed the Brahmanical tradition of writing Manipur history got a mild rebuke from the celebrated Indic scholar R.C. Majumdar who rejected the theory of Aryan connection with Manipur while delivering the Pandit Raj Atombapu Memorial Lecture at Imphal in 1966. Later scholars also rejected the Aryan connection with early Manipur history as concocted and now it has become an exploded myth.

Then how do we situate "A Short History of Manipur" as a path-breaking work and appreciate its contribution in the study of Manipur history? To be honest, Jhalajit by writing this important piece of history has considerably widened our Weltanschauung of Manipur's past to a higher level. It was he, who showed to the outside world that the history of this land could be written based on the available native sources as done in other parts of the world.

He served with sincerity the cause of Clio, the muse of history. Late Professor Gangmumei Kamei, my teacher confided me in private that his most referred and widely read work on pre-colonial history of Manipur is the result of his continuous engagement with Oja Jhalajit's work while teaching the Post-Graduate students at Jawaharlal Nehru University, Imphal Centre and later at Manipur University.

It may be that some of the ideas contained in "A Short History of Manipur," may no longer remain tenable to the scholars of our generation but there are certain insights in this work which deserve the attention of aspiring historians. Because what we called new genres of history writing like environmental history, history of disasters like famine and flood and diseases etc. would find mention in many pages of the book long before historians of the region considered it worthy of highlighting.

Thus at the end, simply setting aside this work as outdated, outmoded and concocted, we might be charged with doing a grave injustice to the discipline of history itself. If history is all about questioning and continuous engagement between the past and present, Oja Jhalajit has made a permanent mark of his own. With these few lines it is prayed that may Oja Jhalajit's soul rest in peace.


---
* Kakchingtabam Ruhinikumar Sharma wrote this article for The Sangai Express
The author is a faculty member, Department of History, Ideal Girls' College, Akampat, Imphal-East.
He can be reached at kruhinikumar(AT)gmail(DOT)com
This article was posted on February 10, 2021.
---
* Comments posted by users in this discussion thread and other parts of this site are opinions of the individuals posting them (whose user ID is displayed alongside) and not the views of e-pao.net. We strongly recommend that users exercise responsibility, sensitivity and caution over language while writing your opinions which will be seen and read by other users. Please read a complete Guideline on using comments on this website.