Prof. Dr. Moirangthem Kirti Singh
(Awarded Padmashree in the year 1992)
By Donny Meisnam Luwang *

Dr. Moirangthem Kirti Singh is a well known educationist of Manipur noted for his significant contributions in the fields of education and social work. Dr. Singh son of Late M. Borajao Singh who was a Reciter of Vaishnava texts was born on February 1st, 1943 at Kongba Uchekon Imphal.

Dr. Kirti Singh has, for the last many years, served at various Government colleges of Manipur and in different capacities. Dr. Kirti Singh is also an active in the field of social work as well. He has been instrumental in organizing many relief camps, youth clubs etc. and has been successful in forming public opinion against drug addiction, immoral traffic in women and children, juvenile delinquency.

Dr. Kirti Singh who lost his brother and sister before he was born had his early education from Johnstone High School in Manipur but at that time there were no Manipur Board in the state so he had to receive his certificate or scholarship from Guwahati University. Dr. Singh was a brilliant student and also done education from D.M. College which was also under Guwahati University and Ranchi University.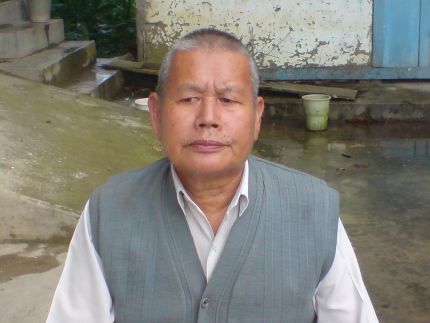 Dr. Moirangthem Kirti Singh
As a academic qualifications he has done BA (Hons), MA, Ph. D, D. Litt, LLB. He passed out his matriculation from Guwahati University in 1957, Intermediate Arts from Guwahati University in 1959, BA (Hons) in Philosophy, 1961, MA in Philosophy, 1961, LLB from LMS Law College in 1965, Ph. D in 1972 and he was first Manipuri to be awarded the Ph.D. and also D. Litt from Ranchi in the year 1985 also the first Manipuri to be awarded the D.Litt.
And for his contributions in the field of literature, Dr. Singh has been awarded the
Padmashree in the year 1992,
Bharat Excellence Award in 1998,
The Rising Personalities Award in 1999,
20th Century Diploma in Culture (IBC-Cambridge England) in 1998 and
Gavashana Archarya in 1989 and
Jyotish Ratna and 1978.
Dr Singh has also been given the
Man of Achievement in the year 1999,
Glory of India in the year 2000 and
Honoured as a Contributor by the Speaker ML Assembly in 1991,
Secular India Harmony award in 2002,
Best Citizen's award 2003,
Netaji Subhas Chandra Bose National award for excellence in 2002,
Life Time Achievement award in 2003,
Gold Star Medal (astropology) in 2003,
Man of year (ABI, USA) in 1997.
Fellow of the Asiatic Society, Kolkata in 2005,
Fellow of Manipur State Kala Akademi, Imphal in 2008 and
Patron, KRI Chennai in 2005.
Some of the important books of Dr. Kirti which were published in English are
Collected Essays in Philosophy and Religion Vol. I in the year 1966,
Aspects of Aurobindo's thought in 1973,
Religious Developments in Manipur in the 18th and 19th centuries,
Religion and Culture of Manipur in 1984,
Philosophical Import of Gandhism in 1986,
The Folk Culture of Manipur in 1990,
Recent studies in Oriental and Indological studies (including Meiteilogy) in 1997,
Philosophy and Religion in 2007 and
The Philosophy of Organism in 2009.
And the books published in Manipuri are
Manipurda Journalismgi Itihas (History of Manipuri Journalism) upto 1980 recommended as a reference book in the P.G. class of Journalism and Mass Communication of Manipur University in 1980.
Manipuri Samaj Hougatlakpa and Chaokhatlakpa (the origin and Development of Manipuri Samaja), Imphal in 1978,
Huranchinthi Ngakpa Miosinggi Khangdaba Kannaba (A Manual for Police Service) in 1979,
Karamna Aphaba Wa Ngangba Ama Oigani (How to become a good Speaker) in 1976,
Darshangi Miyengda Mapham amasung Matam (Space and Time of Philosophy) in 1979 and
Aurobindo Amasung Shri Magi Darshan Vichar (Philosophy of Shri Aurobindo and the Mother) which is also recommended as a referce book for graduate students 1981-83, Manipur University.
Darshangi Maruoiba Lairikshing amasung Logical Positivism
(Manipuri translation of the brief statement of some Philosophical texts and Logical Positivism) in 1984, Anglo-Manipuri Dictionary of Philosophy (which is in the final stage of production) and he also contributed chapters in Manipuri to such publications like
Lokha Haokha, Puya Meithaba
(Discovery of the burning of Manipuri holy texts on the history of Manipur) Edition of Holy texts, folk literature from Manipuri scripts with introduction and explanations.
Dr. Kirti Singh was also the
Life Member of The Cultural Forum,
LDM Art Centre's President and
also the President of Naharol Sahitya Sabha,
And Life Member of
Indian Philosophical Congress,
Indian Archivist Association,
All India Oriental Congress,
Asiatic Society Life Member cum Fellow,
State Kala Akademy Fellow,
Kuppu Swamy Sasthi research Association, Chennai, Patron Member,
Dalit Sahitya Akademy, New Delhi Fellow,
United Writer Association member and
Manipur Astrological Society's member.
---
* Donny Meisnam Luwang is a young Manipuri writer / reporter based at Imphal. He is a regular contributor to e-pao.net.
This article was webcasted at e-pao.net on 24 August 2009.
---
* Comments posted by users in this discussion thread and other parts of this site are opinions of the individuals posting them (whose user ID is displayed alongside) and not the views of e-pao.net. We strongly recommend that users exercise responsibility, sensitivity and caution over language while writing your opinions which will be seen and read by other users. Please read a complete Guideline on using comments on this website.