Which Croton caudatus is 'Damdei'?
By Rajkumar Kishor *
Chances are unlikely that all Croton caudatus growing in the forest of Saikot or nearby village are Damdei, the miraculous cancer curing herb.

There has been a growing interest in the plant since the discovery of its anticancer activity by a local physician. It is really great to learn of the effort being put by the team led by Dr. P. Kumar, Assoc. Prof., Dept of Life Sciences, Manipur University to successfully establish the identity of 'Damdei'.

Besides, Botanical Survey of India also verified the identification of 'Damdei' to the level of species.

However, after a perusal of literatures on the works of various scientists it comes to the light that C. caudatus can have different varieties and it will be necessary to tell which variety of C. caudatus is 'Damdei'.

The legendary plant explorer and plant geographer Sir J.D. Hooker, in Flora of British India, Vol. 4 described about the plant and its varieties. He reported five varieties, viz.,
C. caudatus var hispida,
C. caudatus var ruminata,
C. caudatus var globosa,
C. caudatus var tomentosa, and
C. caudatus var malaccana.
H.J. Esser in Flora of Thailand also described C. caudatus and there too he mentioned of the plant to have five varieties, viz.,
C. caudatus var caudatus,
C. caudatus var denticulatus,
C. caudatus var genuinus,
C. caudatus var harmandii and
C. caudatus var malaccanus.
All these varieties look alike and it will be difficult for a lay man to tell at a glance which one is which variety. It will not be an exaggeration to say that a few varieties of C. caudatus may be there in Saikot or Churachandpur or Manipur, because NE India, Myanmar, Thailand and Southern China share common flora and fauna and form an integral part of the Indo-Burmese megabiodiversity hotspot.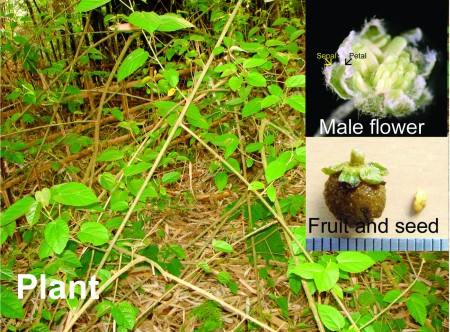 Again, a group of scientist led by Dr. Xue HG of College of Life Science, Sichuan University, China had already reported that the morphological feature of
C. caudatus
was very similar with other species of this genus such as
C. kongensis, C. cascarilloides, C. crassifolius, C. lachnocarpus
and
C. olivaceus
and it was difficult to identify each of them by looking at the general morphological characters such as leaves or branch.
Hence, they used DNA markers (ITS or Internal Transcribed Spacer region) to accurately identify
C. caudatus
to the level of species. It may be worth mentioning here that
Croton caudatus
is used in Dai Medicine which is associated with the Theravada Buddhism and is practiced in the South Yunnan Province, China.
So, taking the due advantage of morphological similarities, leaves of other species are often sold imitating as the genuine
C. caudatus
in the local market there.
Presence or content of the biologically active molecule(s) which is/are responsible for cure of cancer or other ailments will differ with varieties. So, the true identity of 'Damdei' should be established by gathering every bit of morphological details and, nevertheless, its identification using a DNA marker is highly required.
With the ever growing demand for the miraculous cancer curing 'Damdei Potion' there has been an exponential rise in the harvest of the fresh leaves or other plant part from the forest.
This is the deadly threat 'Damdei' is facing today and too much of media hype will only bring the end sooner.
Let 'Damdei' be in safe hand before someone snatches the patent stealthily.
---
* Rajkumar Kishor (PhD) from IBSD, Imphal, contributes regularly to e-pao.net . He can be contacted at rajkumarkishor(at)yahoo(dot)com . This article was webcasted on June 16, 2008.


---
* Comments posted by users in this discussion thread and other parts of this site are opinions of the individuals posting them (whose user ID is displayed alongside) and not the views of e-pao.net. We strongly recommend that users exercise responsibility, sensitivity and caution over language while writing your opinions which will be seen and read by other users. Please read a complete Guideline on using comments on this website.