SOUNDS FROM THE UNQUIET HILLS: REWBEN AND THE FOLK BLUES

In the east there now is a faint luminescence,
A hint of pearly tones etch the edges of the tree crowned hills;
Strong and tall they await the coming,
Of a new day, filled with promise.
---From Cherokee Dawn, a poem by an unknown Native American

If the peak of Shirui Kashung is the home to one and only exquisite Shirui Lily or Lilium Mackleanae Sealy, the picturesque Ukhrul District inhabited by the Tangkhul tribe has also given the world a new age wandering minstrel whose works epitomize freedom, bravery, honesty and age-old wisdom of the people that inhabit the breathtaking hills and dales. It is not so much the 'travelling' that this minstrel is known for but his soul searching music. Ask any discerning music aficionado of the Northeast - Who is the father of modern Naga Folk-Blues? They will not take time to give you the answer.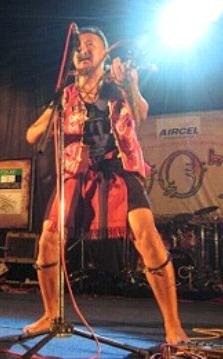 Guru Rewben Mashangva.
Rewben Mashangva can be a son, husband, father, brother and uncle to many depending on how one reads the idea of 'kinship'. Beyond the given kinship structure, he is a musician, composer, researcher and a leading torchbearer of preservation and development of tribal folk music for many years now. Rewben was born to Shangphai Mashangva (father) and Lasengla Mashangva (mother) in a quaint small village called Choithar in the Ukhrul district of Manipur. He did not enjoy a "musical environment" in his childhood as is understood in contemporary times, save for the sound of bamboo instrument called "Talla" that his father occasionally played. Rewben dropped out of school after his tenth class (matriculation) and decided to venture into adulthood trying his hands on ordinary jobs around his ancestral abode. Years later, he found his soulmate Happy Mashangva and married her. Her moral support had been unwavering and encouraged Rewben in all his endeavors. They have raised three daughters and a son and are now settled at Nagaram, Imphal.

It is said that Rewben was influenced by the great American balladeer, Bob Dylan and the inimitable Rastafarian and reggae icon Bob Marley. In an article published by The New York Times in June 2008, Rewbwn recalled how he was initiated into music and songs of Dylan when a friend came over to his place with an album of the singer/songwriter. He thought most Dylan songs were "so relevant" to the landscape he grew up with.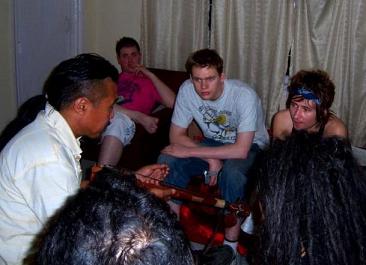 Rewben during a music workshop.
Rewben remembered how he painstakingly acquired his first guitar at the age of fifteen. The teak wood guitar was brought to him by a trader from across the border in Burma (Myanmar). He grew up listening to western music and learning about the same through the only link – the communication medium of the poor in many developing countries, the transistor radio. Then came a phase in his life when he would simply croon in English and in his own Tangkhul dialect. A closer scrutiny of the man and his craft tells you that the socio-cultural and political milieu he grew up with, had given him a unique place in the world of music. And the so called 'influences' do not matter much now. Rewben says, "I began singing inside the church but no one taught me music. I am a self-taught musician. I attended no music classes." And in a characteristic style befitting a true musician of the soil, he auto identifies himself in a song called My Land and People (Lyric by Ahao Horam featuring Baby Alvina Gonson) from one of his music albums called Tantivy (1999), "Oh! I was born and brought up here I am, Here I am, here I am Oh! The son of this land…." If you have not had a chance to see Mashangva in flesh and blood, just construct a mental canvass large enough to accommodate the imagery of the man and his times. Here is someone who is ever enthusiastic and committed to efforts in researching and discovering indigenous musical instruments, promoting them and drawing the attention of the new generation to their roots in the backdrop of other popular musical forms.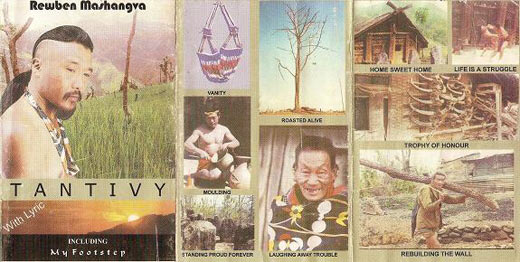 An Album released in 1999.