GAAN-NGAI
Greatest Festival Of Zeliangrong
Gaan-Ngai is the greatest living festival of the Zeliangrong people of Assam, Manipur and Nagaland. It is the festival (Ngai) of Gaan (Dry or Winter season) and also known as the Chakan Gaan-Ngai, the festival of Winter season. It is a kind of festival of mixture of living and dead.

It is a religious and cultural festival. The festival starts on the 13th day of the Manipur month of Wakching every year (December- January). This was fixed in 1947 by the erstwhile Kabui Samiti (now Zeliangrong Union). The festival is celebrated from five to seven days depending on local variations. This year the festival falls on Sunday, the 27th January.

Gaan-Ngai is observed by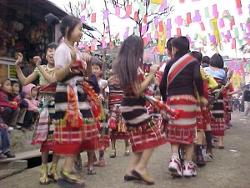 Zeliangrong people numbering about 1,20,000 nearly in almost all the districts of Manipur except Ukhrul and Chandel.

Zeliangrong people living in Assam and Nagaland also perform this festival. It is mainly performed by the followers and devotees of Zeliangrong Indigenous religion of 'Tingkao Ragwang Chap-Riak' and 'Heraka' cults. It is also a self identity assertion festival. The Gaan-Ngai is performed;




To mark the end of the harvest season when the farmers have stored their foodgrain in their granaries.
To mark the heralding of the new year and new fire is produced by rubbing of dry wood and split bamboos pieces. and the new fire is distributed to every household.
To worship Tingkao Ragwang, the Almighty God as a thanks-giving for the good harvest and prayer for a successful and long life in the coming year.
To organize games and sports for the youth of the village in long-jump, stone throwing, race on the opening day of the festival with Hoi procession through the village to perform commemorative dances for those who are declared queen and kings of the Phaak (a kind of grass) after a trekking competition in a nearby hill or mountain peaks (long—Luimei).
To those members of the male dormitory of the rank of Khangbon who are given farewell.
To those girls who are going to be married.
To those members of the dormitory who died in the previous year.
To organize a feast of the womenfolk and of other ranked institutions.
To perform the worship and sacrifice for the deities who are worshipped by the Zeliangrong of the village.
To organise singing competition of folk songs between boys and girls at girls' dormitory.
To perform different types of drum beating by those who are expert in this art.
To teach the boys and girls how to maintain strict discipline in the society by the elders.
To perform rites and rituals such as Raren Loumei i.e. worship of all the Gods of the Zeliangrong pantheon on the last day of the festival.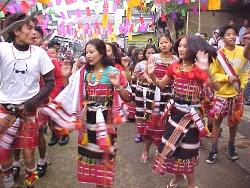 The Gaan-Ngai festival was declared a Restricted Holiday in 1976. This restricted holiday was upgraded to public holiday since, 10 January 1998 by the United Front Govt head by W. Nipamacha Singh, who we believe is a true lover and aspirant to indigenous religion. We are grateful to the United Front Govt.

The granting of a public holiday by recognizing and understanding its importance is the right practical step to safeguard the idegenous religion, custom, culture and identity of the Zeliangrong people of the North East. The Govt of India has recognised the Gaan-Ngai as the Tourist Festival of India.


---
** The writer is the General Secretary of the Zeliangrong Rach apriak Phom (ZPP), Assam, Manipur and Nagaland.
* Comments posted by users in this discussion thread and other parts of this site are opinions of the individuals posting them (whose user ID is displayed alongside) and not the views of e-pao.net. We strongly recommend that users exercise responsibility, sensitivity and caution over language while writing your opinions which will be seen and read by other users. Please read a complete Guideline on using comments on this website.