Cultural Heritage Complex
- Part 6-
By: Mutua Bahadur *

BULLOCK CART HUT

This is a kind of outdoor hut which is made of bamboo and its roof is covered with thatch. There is no wall in all directions of this hut. It is 6.00 m. in length and 2.40 m. in breath. In this hut, we exhibited a bullock cart. The bullock cart is one of the essential things for a farmer. In Manipur, the use of bullock cart has been generally seen before the Second World War. Nowadays it is hard by seen a bullock cart even in the rural areas of Manipur.

TYPICAL MEETEI SANGOI (OUT HOUSE)

It is a house that builds at the northern side with the materials like bamboo and its upper roof covered with the thatch. There is a half wall of 1.20 m. high in three sides of the house, which is made of a mixture of mud with chaff. The upper portion of the half wall is also made of bamboo chip and plastered with a mixture of mud and straw. The frontal side of the house is kept open. Generally, this outdoor house is 4.50 m. in breath and 12.00 m. in length. Since the Meetei adopted Hindu religion in the 18th century, it has been practiced that the pictures of Gods and Goddesses and Khamba and Thoibi, the traditional hero and heroin of Moirang Kangleirol hang



Fig 1

FIG 2
on the wall of the frontal shed of the house and the outdoor house.
By following this tradition, we exhibited the traditional paintings of Manipur in this outdoor house. There are also different stone sculptures of Gods and Goddesses of Hindu and Buddhist religions around the half wall for exhibition. On the ceiling of the outdoor house, there exhibits canopy (thakan), one important thing made by cutting cloth and having a pattern that the Meetei used to hang on the ceiling of the ritual place, like temple.
Hindu Icons
Stone sculptures: Most of the stone sculptures, which we found in Manipur, are carved after the coming of Hinduism, in the 18th and 19th centuries. Important sculptures are related with the Avartars of Lord Vishnu, like Matsya, Varaha, Narashimha, Vamana, Trivikrama, Balarama, Krishna and Parsurama, etc. There are other sculptures of Saivic sects like Siva, Ganes and Karttikeya, etc; of Vedic like Indra and Agni; etc. and of Demi Gods and Bhaktas like Garuda, Dhurva, Pralahada, Hanuman, Kapil, and Vrinda Devi, etc. Most of the stone sculptures are approximately 40 cm. in height, 31 cm. in wide and 8 cm. in thickness.
All the sculptures are carved out of sandstone and marked the name of the Gods and Goddesses in Bengali script in order to easily recognize them. These sculptures are commonly found near the door and at the top of the Hindu temples. The sculptures are adorned with the traditional customs. All the sculptors are the local artists.

FIG 3
Buddhist Icons
There are different forms (Mudra) of Buddhist sculptures in Manipur. Most of the icons are carved in marble and wood. One Votike stupa, carved out of the stone, was found in 1982 at Imphal. The Votike stupa is a miniature stone replica of the larger one. The minimum and maximum circumference of the stupa is 14.5 cm. and 32.5 cm. respectively and has a weight of 2.150 kg. Another very interesting feature of this Votike stupa is its depiction of four Dhyani-Buddhas at the four cardinal directions. It has seven chhatras on the lower bell-shaped dome while another five chhatras are on the upper dome. The architectural style is comparable with those found in Thailand during the 13th to 15th century A.D.

FIG 4

FIG 5

FIG 6
See an accompanying gallery on this here.
To be continued ....
---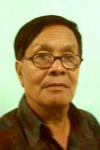 Mutua Bahadur



* Mutua Bahadur contributes to e-pao.net regularly. This article was webcasted on June 13, 2010.


* Comments posted by users in this discussion thread and other parts of this site are opinions of the individuals posting them (whose user ID is displayed alongside) and not the views of e-pao.net. We strongly recommend that users exercise responsibility, sensitivity and caution over language while writing your opinions which will be seen and read by other users. Please read a complete Guideline on using comments on this website.