The imaginary homecoming
- Part 2 -

Kapil Arambam *


The most peculiar thing about my hometown is the break I have got to enjoy the sight of breathtaking natural landscapes. The so-called wonders of the India Gate and Qutub Minar are completely down six sets to love in a match against the curling Khonghampat road having picture-perfect views or any of the mysterious hilly terrains with ravines across the state.

The weekends might be lifeless as the Elephant and Budhachandra of Samumakhong, nonetheless, the renovated Khwairamband Keithel, Mujikhul (read the local wine vendors) and the various local joints provide a worthwhile sanctuary.

Needless to say, there are other hot spots, including the NH 39 (upto Sekmai), Moirang, Churachandpur, Moreh, the Tamenglong route, Kangchup, et cetara; these places are viable, seeing that I can return back home in a day's time. I have only a few alternatives, alas, when the entire state is a forbidden zone – which they tagged it as a disturbed area in bureaucratese.

And it is regrettable we have reproachable creatures in the form of military forces and delinquent rebels to breed more agitation. Utterly confusing it is sometimes, whether we have traversed 21st century or are hemmed in a time warp. The daily load shedding for long hours makes the eyesight painful.

For the pathetic electricity, we can go to the power office and the concerned, or rather the unconcerned ministry, both of which have ready-made answers to cite inadequate supply from the projects. But the grievance notes have been buried under the debris of Loktak and in Yurembam long ago. No more have the people felt the need to protest but to suffer in silence.

In fact, we can see in this darkness that a life is far more important than electricity. What we do most of the time is distract ourselves from the avaricious eyes of bloodshed and drug addiction and extortion and hostilities.

It's not surprising all the rubbish will pelt down like a June downpour, when I mention a problem in Manipur, because no system is working in tandem here and we have messed up almost everything. Insurgency, underdevelopment and conflicts are conspicuous throughout and in their shadow lies the administration that has gone haywire, the complication of transport and communication, a deplorable education system, insubstantial healthcare, dismal infrastructure, a chaotic social order and what not.

And their genesis is multifaceted too, with the polity, geography, economy and history of the land, twisted in such a way that the search for a solution to these problems is only as good as waiting for Chaisra to reciprocate Sandrembi's feelings. Time has certainly gone ahead of us in our march towards enlightenment.

Remember, time has not even spared us. In this degeneration and plodding social movement lies my life. I give a damn about how much O Ibobi-bozo has amassed wealth from the government coffer or how many civilians are the gun-toting thugs going to murder.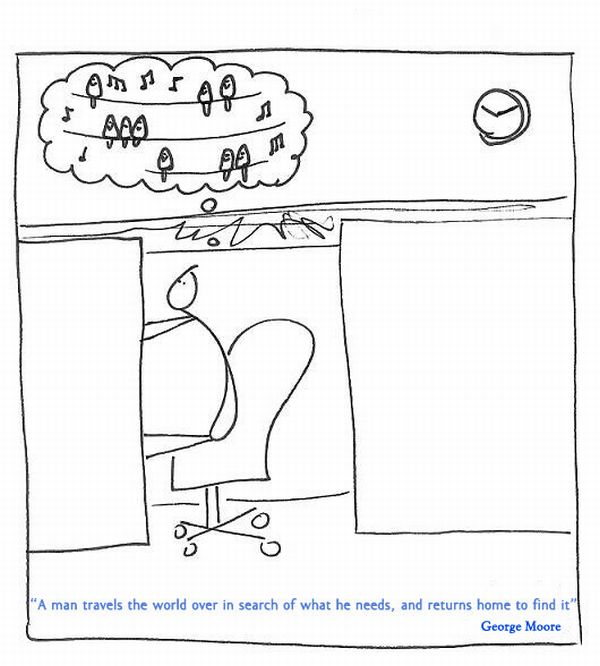 I'm least worried how many times people will rape Manipur and taint the record of the land with barbaric crimes. Call me selfish, I don't mind either – I'm a guy who love rock n' roll and simple, beautiful things in life.

So it's maddening to contemplate, when all I long for are peace, and a little bit of freedom to go where I'm pulled and do what I'm good at. Unceasingly, I'm so annoyed to feel shackled. I've been trying to break myself free from these manacles of a primitive lifestyle.

Presently I get the kick out of reading good books, visiting new places that I have not been before, watching movies and catching up with friends. It's a boon to be away from the hot spell, which makes me go bananas, in the capital; albeit the winters were fine, allowing me and others to roam around anywhere.

Be that as it may, Nikhil's has replaced the momo kiosk in Lajpat Nagar now, so have the Orchid and neighbourhood hotels taken the place for Al Bake and the Aggarwals. When I wander nobody asks me if I'm from Nepal or China anymore and I'm quite relieved, being exempted from those ridiculous queries like how far Kathmandu is from Imphal or how we manage to catch and eat snakes.

Considering this cultural generalisation, the mainland Indians are seemingly so engrossed in hankering after the IITs and IIMs that they have ignored geography and sensitivity completely. Or maybe they are plain idiots, ignorant of the world outside the number theory, trigonometry, the business management stuffs.

There was once a halfwit guy, who lived in the adjacent building to where I stayed. One day, I heard him complaining to Bunty that he had found large animal bones on his terrace – exaggerating the size with his hands and repulsive eyeballs that almost popped out from his disgusting face. "Moron," I thought, "You better join some Love Beastie Boys and surf Legal Bestiality dot-com." But he was drunk and I ignored him.

This kind of bigotry is prevalent all over and the best remedy I found was to make the other fellow understand. Understand who we are exactly and let them tell me what the problem is. Here and there, I had to take a pen and a piece of paper to draw the Indian map and locate where Manipur is.

It was obviously discouraging to be profiled in such a narrow sense, but then theirs is a land where caste makes the country count backwards. In another incident, one of my Northern friends disclosed he had never seen an exposed female leg above the ankle in his life, and no wonder during his first few days in Delhi, he got wet whilst gawking at mahilas in shorts.

He was of course talking about girls in general; however, this is also a fact that the people look at the North-Eastern chicks as easy and sensual. But that's another story. All the people are, in any case, not like my distasteful neighbour or the buddy with out-of-control feelings.

I'd also met several individuals and groups who know and are eager to know about us. The bottom line is to speak up. "Blockhead, now you understand Manipur is not a district in Assam?! Wise up, else your arch-rival dragon will flood the market with giveaway Viagra and let India screw itself up with population explosion."

Back to where I belong, and nothing can be as good as the feeling of attachment somewhere. I long to bask in the balmy winter sun; watch the colourful skies of spring and its pristine greens; hear the torrential rain singing in chorus on tin roofs; and visit unknown, unspoiled countryside to gaze at uninterrupted views across the lush fields and blue mountains.

I want to stop the apathetic time. I want to move ahead in life.

Khongnote:
I'd love to travel across the world instead of staying back at home. But I don't think it's a Catch-22 situation or anything like that... The thought of enjoying vacation in my homestead always fascinates me but that's not the only thing/place that I draw my motivation from. The dream of victory always fuels my existence. What is there beyond our existence, anyway?
To be continued.....
---
* Kapil Arambam (located in New Delhi) contributes to e-pao.net regularly . The writer can be contacted at his blog or kupelderanged(at)gmail(dot)com
This article was webcasted on June 19, 2010.
---
* Comments posted by users in this discussion thread and other parts of this site are opinions of the individuals posting them (whose user ID is displayed alongside) and not the views of e-pao.net. We strongly recommend that users exercise responsibility, sensitivity and caution over language while writing your opinions which will be seen and read by other users. Please read a complete Guideline on using comments on this website.