Sacred groves of Manipur need urgent attention

Khuraijam Jibankumar Singh & Rajkumari Jashmi Devi *


Sacred groves are small patches of forests that are usually devoted to local deities. These forests are protected by communities over generations because of their religious beliefs and traditional rituals. The sacred groves served as important repositories of floral and faunal diversity that have been conserved by indigenous communities in a sustainable manner.

Many endemic, endangered and rare species find safe refuge in the sacred groves. The concept of sacred groves grew over time when some of the important ecological and economic species of plants or of animals were conserved (or protected) in a grove1.

In India, over 13,720 sacred groves have been reported from different parts of the country[2] and they locally known as
Devrai or Devrahati in Maharashtra;
Dev van in Himachal Pradesh;
Sarna or Dev in Madhya Pradesh;
Sarana or Jaherthan in Jharkhand;
Sarnas in Bihar;
Orans in Rajasthan;
Devarabana, Devarakadu, Rulidevarakadu or Nagabana in Karnataka;
Kavu in Kerala,
Kovilkadu in Tamil Nadu;
Ki Law Lyngdoh or Ki Law kyntang in Meghalaya, and
Umanglai in Manipur.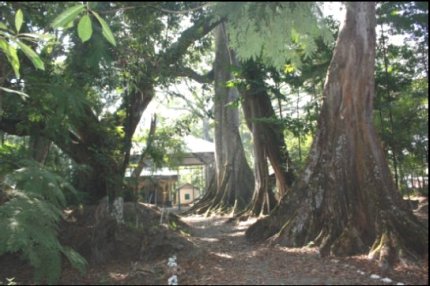 Konthoujam Lairembi - a sacred grove in Imphal West District, Manipur
A large number of sacred groves were reported from the north-eastern states of India viz., Meghalaya, Manipur and Karbi Anglong area of Assam[3].
There are 365 sacred groves or
Umanglai
in Manipur[4]. Out of the 166 sacred groves identified in the four valley districts of Manipur, only a few are well preserved (11%), while most are partly threatened (58%) and others are threatened (31%) due to various anthropogenic pressures such as developmental activities, urbanization and population explosion.
Thus, the sacred groves of Manipur have become the victim of encroachment and exploitation at different levels[5].
Continuous destruction of forest around the sacred groves resulted from numerous anthropogenic activities, the sacred groves has become fragmented habitats housing a variety of gene pools and became the last refuge for many endemic, endangered and rare plant and animal species.
Explorations of floristic diversity and also to identify both anthropogenic and biotic threats to the sacred groves in Imphal Valley were carried out over a period of two years. Bishnupur District has 22 sacred groves out of which 10 sacred groves have lost its 80% biodiversity due to several anthropogenic activities[6].
Loss of the traditional belief systems, which were fundamental to the concept of sacred groves, is one of the major factors leading to the destruction of ecosystem of sacred groves.
These systems and their rituals are now considered mere superstition. Encroachment of sacred groves for human settlement has led to the shrinkage of sacred groves. Heavy demand on the bioresources of sacred groves for timber and firewood, medicines and food reduced the biodiversity of the sacred groves.
Considering the speed in which the species are disappearing from the sacred groves, it won't take much time to wipe out completely. There is an immediate need to conserve and protect the rich biodiversity of the sacred groves through active involvement of the local people, NGOs and Umanglai committees; and declare the sacred groves as special protected areas.
Presently, there is no legislation for the conservation of sacred groves in the state and the sacred groves are owned by local communities or Umanglai Committees.
Acknowledgements
The work was supported by a grant from ATREE, Bangalore and Sir Dorabji Tata Trust, Mumbai. Dr. Biseshwori Th, Scientist C, Institute of Bioresources and Sustainable Development, Imphal (Manipur) is gratefully acknowledged for her constant support, help and encouragement.
The authors would also like to thank Research Team of North East Centre for Environmental Education and Research, Imphal and
Umanglai
Committees of Bishnupur District for their help during field work and cooperation during the study.
References
Deshmukh, S., Gogate, M.G. and A.K. Gupta. Sacred groves and biological diversity: Providing new dimensions to conservation Issue, In: Conserving, the Sacred for Biodiversity Management (eds. Ramakrishnan, P.S., Saxena K.G. and U.M. Chandrashekara ), Oxford and IBH Publishing Co., New Delhi, 1998, pp. 397414.
Malhotra, K. C., Gokhle, Y., Chatterjee, S. and Srivastava, S., Cultural and Ecological Dimensions of Sacred Groves in India, INSA, New Delhi, 2001.
Tripathi, R.S. Sacred groves: Community biodiversity conservation model in Northeast India. In: Tropical ecosystems structure, diversity and human welfare (Supplement). Proceedings of the International Conference on Tropical Ecosystems. (eds. Ganeshaiah, K.N., Shaanker Uma, R. and K.S. Bawa), ATREE, Bangalore, 2001, pp. 104-107.
Devi, S. Sacred groves of Manipur. Abstract. National Workshop on Community Strategies on the Management of Natural Resources. Bhopal, 2000.
Khumbongmayum, A.D., Khan, M.L. and R.S. Tripathi. Sacred groves of Manipur, Northeast India: Biodiversity value, status and strategies for their conservation. Biodiversity Conservation, 2005, 14, 1541-1582.
Singh, K.J. Sacred Groves: The Last Man-Made Carbon Sink. International Journal of Climate Change: Impacts and Responses, 2009, 1, 119-127.
---
* Khuraijam Jibankumar Singh & Rajkumari Jashmi Devi wrote this article for "Ecotone" - A joint publication of Environ, Guwahati (Assam) and NECEER, Imphal (Manipur) - Vol.1 Issue 1 Oct. 2009.
Khuraijam Jibankumar Singh is Co-ordinator, Research and Development Division, North East Centre for Environmental Education and Research (NECEER), from Sagolband Tera Akham Leikai. Email: redjiban(at)yahoo(dot)co(dot)in
Rajkumari Jashmi Devi is a Research Scholar, Department of Botany, North Eastern Hill University (NEHU), Shillong. This article was webcasted on December 04th, 2009.
---
* Comments posted by users in this discussion thread and other parts of this site are opinions of the individuals posting them (whose user ID is displayed alongside) and not the views of e-pao.net. We strongly recommend that users exercise responsibility, sensitivity and caution over language while writing your opinions which will be seen and read by other users. Please read a complete Guideline on using comments on this website.