Threat to Manipur Fishes
By Triveni Waikhom *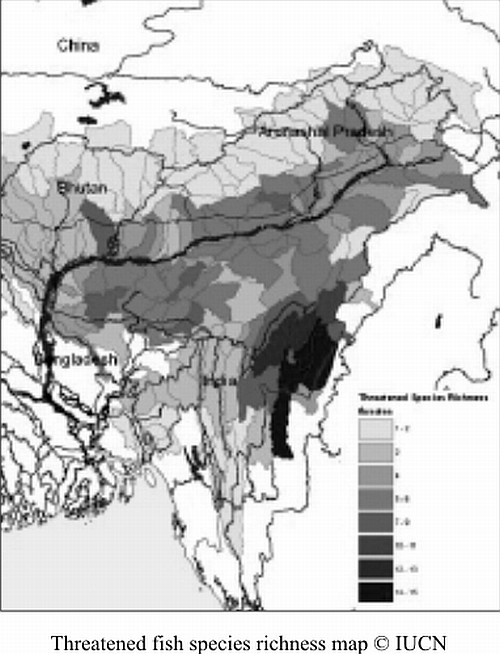 Map: courtesy - IUCN


Manipuris relish eating fish. Dr Sunderlal Hora in 1921 remarked Manipuris to be very intelligent people as they did not even waste the viscera (belly contents) of fishes, which is known to contain essential oils and vitamins.

Apart from fish being an excellent food for humans, it has immense value to the naturalists and to the home aquarists. Diminutive fishes having more of bony consistency, but having attractive colouration have often been overlooked as they have little food value. However, such fishes find a good place in the aquarium trade and traders have been hunting for these in the tropical countries.

Manipur, drained by the headwaters of the two important drainages - the Barak and the Chindwin, respectively in the west and the east is the home for several native hill stream fishes.

The cobotids (sareng khoibi, ngakijou), nemacheilines (ngatup), danionins (zebra fishes), torrent cat fishes (ngapang, ngarang, etc) are highly priced aquarium fishes. These rich natural resources have been lying unnoticed to the people for the last many years. These could be captivated and artificially propagated and sustainably utilised in ornamental fish trade.

IUCN (International Union for Conservation of Nature) concluded its assessment and evaluation of the threat criteria of fishes of the Eastern Himalaya. Its report, published in December, 2010 shows Manipur and parts of Chin Hills of Myanmar to have the highest degree of threat to the fishes.

The assessment was based on the available informations on the population, geographical range of distribution, threats etc. The threats are:
pollution,
species invasion,
over-exploitation,
habitat loss and
flow modification
There have been great habitat losses to the fishes due to sand and gravel mining for construction, siltation, etc. Use of poisons (plant & chemical), dynamites in the hill stream are in practice.
Introduction of alien species, viz, Tilapia, Common Carp, etc have caused competition with the native fishes. Since the commissioning of the Loktak hydroelectric project in the natural water flow in the lake.
In fact, the Loktak has become a huge reservoir rather than a natural lake. More of such flow modifications may come up. More than 500 species of fishes of the Eastern Himalaya have been assessed by IUCN.
Fifteen species are categorised as Endangered. Alarmingly, seven species occur in Manipur.
They are:
Schistura kangju-pkhulensis,
Schistura minutus (both Ngatup),
Badis tuivaiei (Ching Ukabi) and
Pterocryptus barakensis (Ching Ngakra) from the Barak basin and
Schistura reticulata (Ngatup),
Puntius manipurensis (Ngakha Meingangbi) and
Psilorhynchus microphthalmus (Nunga-macha) from the Chindwin basins.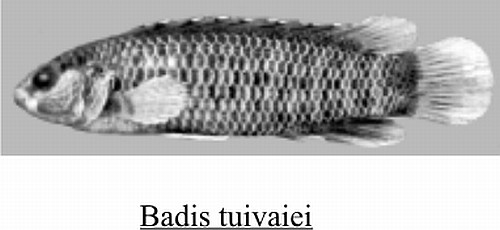 Fish Photo: courtesy - Department of Life Sciences, Manipur University


With human civilization and developmental activities, the freshwater ecosystem is under severe threat. While the inventory of freshwater organisms is in the survey state, many have already been subjected to threat and extinction. It is time (better late than never) we recognise our dependency to the environment and to all the species and try to conserve them for a better tomorrow.

ENDANGERED FISHES OF MANIPUR
Badis tuivaiei,
Psilorhynchus microphthalmus,
Pterocryptis barakensis,
Puntius manipurensis,
Schistura reticulata,
Schistura kangjupkhulensis,
Schstura minutus
---
* Triveni Waikhom wrote this article for The Sangai Express . The writer is a student of Christ University, Bangalore
This article was webcasted on May 04, 2011.
---
* Comments posted by users in this discussion thread and other parts of this site are opinions of the individuals posting them (whose user ID is displayed alongside) and not the views of e-pao.net. We strongly recommend that users exercise responsibility, sensitivity and caution over language while writing your opinions which will be seen and read by other users. Please read a complete Guideline on using comments on this website.