<!EpnHeading9>KRA decries kidnapping <!EpnHeading9End>
Source:
The Sangai Express
Imphal, December 29: Asserting that it has nothing to do with the kidnapping of two school going kids from Senapati on December 14, the proscribed Kuki Revolutionary Army today claimed that it has started investigating the case to haul up the culprits.

Speaking to reporters today on the sideline of the 7th foundation day celebration of the outfit somewhere at Sadar Hills, the home secretary of the outfit, Johnson said that kidnapping two innocent children for ransom is highly abhorrent and added that the kidnappers should immediately release the two kids safe and sound.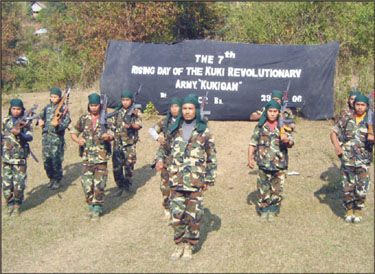 KRA cadares at the occassion of its 7th foundation day
Johnson also stated that such inhuman acts should not be repeated.
The main celebration of the foundation day centred around the concept of peaceful co-existence amongst the different groups of people.
KRA also sends its greetings and wishes to all the people of the region, said Johnson.
Fitting tributes were also paid to the departed souls of the KRA cadres.
Village chiefs of the adjoining areas as well people from different villages turned up for the foundation day celebration.
Meanwhile condemnations and appeals for the safe release of the two children continue to pour in.
In Inpui (Kabui) Naga Union, Manipur and Nagaland besides strongly condemning the kidnapping of the two kids appealed to the kidnappers to release them without any conditions on humanitarian ground.
In a statement the Union said that it also shares the grief and sorrows of the family members of the two kids.
The Mao Union, Imphal has also strongly condemned the kidnapping of the two kids.
In a statement, the Union said that an emergency meeting was held today wherein the members present strongly condemned the cowardly action of the kidnappers.
The Union also appealed to the kidnappers to release the two children safe and sound.
The statement further said that this kind of unwanted incident will destroy the sanctity of society.
The All Manipur Gorkha Students' Union has also appealed for the safe release of the two kidnapped childrenso that they may celebrate the New Year with their families.
The two children, both Class III students of Don Bosco School, and named as Hriini Hubert and Muheni Martin Senapati were kidnapped on December 14 and their whereabouts still remain a mystery.