<!EpnHeading5>Terror attack: Lest we forget the tears-V<!EpnHeading5End>
Source:
The Sangai Express
Imphal, September 22: "They are demon incarnates" were the few words of Ibeyaima to describe the perpetrators of the August 16 terror attack at ISKCON complex.

Although shocked and shattered at the sudden demise of her husband Huidrom Birkumar (75) in the terror attack, the bereaved widow took solace in the fact her husband was converted into a Brahmin after he was offered Brahmin Dikshya by Swami Domadara himself in the morning of the fateful day.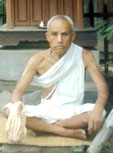 A Krishna devotee : Huidrom Birkumar
As if he was aware that his life on Earth had come to an end, he woke up earlier than usual on that fateful day, took a bath, lifted his mala and offered prayers to Lord Krishna.
That was how he prepared himself for his journey to the Heavenly abode of his Lord, reminisced Ibeyaima.
Unable to resist the call of the Almighty, he left for ISKCON temple quite early as if he knew it was the last day of his life and before his departure his heart and soul was eager to get Brahmin Dikshya, the crest fallen widow recounted while consoling herself that her husband was finally able to fulfil his long cherished wish to get converted into a Brahmin.
"Before he left for the ISKCON temple, he gave me a hundred rupee note to buy milk and kabok as he used to undertake fasting on every Janmasthami night.
"I did not know then that he was bidding adieu to me when he looked at me for a while with love and care reflected in his eyes.
"The next moment he set out on his final journey with heavy steps leaving behind all the worldly desires and vices of the human society", Ibeyaima recounted.
When Ibeyaima was informed of the terror attack and the death of her husband, she was dumbfounded and shocked.
The picture of her husband lying in a pool of blood is still haunting the aged widow day and night till today.
Huidrom Birkumar of Khagempalli Huidrom Leikai was a very religious and humble man since his childhood.
He always put chandan on his nose even when was a bachelor, recalled Ibeyaima of their youthful days.
After retiring from service as head clerk in the Panchayat office, he joined ISKCON and since then he had been a devout devotee of Lord Krishna and a true disciple of Swami Domadara, the international Director of ISKCON.
To fulfil his wish, his mortal remains were put to rest at ISKCON complex and the last rites performed there, said the dejected widow.
As for the perpetrators she said that they were demons with human faces.
The barbaric act should be condemned by one and all on this earth, she noted with disdain.