<!EpnHeading5>MoU signed, remains put to rest<!EpnHeading5End>
Source:
The Sangai Express
Imphal, June 12: Following the signing of an MoU between the State Government and the JAC Against the Brutal Killing of Innocent Persons at Moreh at the office chamber of the Chief Minister today, the mortal remains of the five victims of Moreh violence belonging to different localities of Khurai were finally put to rest today.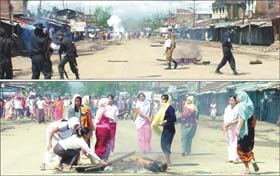 Road blocks put during the 24 hour general strike by the JAC and the police trying to clear the obstacles
The mortal remains brought from RIMS morgue were received by a large number of people at Khurai Lamlong.
The corpses were then taken to the crematorium of Khurai Salanthong amidst a huge procession before they were finally put to rest along with customary rituals.
As per the MoU signed today, it was agreed that the JAC shall claim the corpses whereas the Government should pay ex-gratia to the families of the deceased victims as well as to those injured in the violence.
It was also agreed to institute a Magisterial Enquiry to find out the cause of the incident and security lapses, if any, and to suggest measures to prevent recurrence of such incidents in future.
The report of the Enquiry will be submitted to the State Government within one month.
Other points incorporated in the MoU were deployment of adequate security forces of the State to maintain law and order at Moreh and to continue combing operations in the area until normalcy is restored and review of the inaction of AR posted at Moreh and their role in the issue in the next meeting of the Unified Command etc.