<!EpnHeading5>Rally staged against crimes on kids<!EpnHeading5End>
Source:
The Sangai Express
Imphal, January 01: Hundreds of children coming from different parts of the State and belonging to different communities took out a mass protest rally here today decrying the rising crime and violence on children in the State.

Ahead of the protest march, a public meeting was also held at Hatta Kangjeibung and the resolutions arrived at during the said meeting were submitted to the Chief Minister in the form of a memorandum.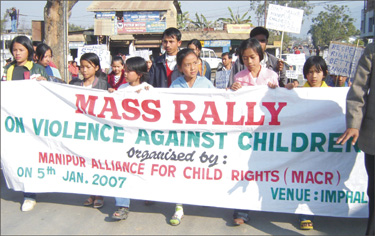 Children staging a protest rally against rising crimes on them in the backdrop of the kidnapping of two kids and murder of a girl
The meeting demanded the State Government to take up prompt and necessary measures to ensure the safe release of Muheni Martin and Hriinii Hubert whose whereabouts are still not yet known after they were kidnapped by unidentified persons from Senapati on December 14 last and to expedite action to arrest and punish the culprits involved in the rape and brutal murder of 10-year old Samchetsabam Thambaltombi alias Ichal of Andro Awang Leikai.
The meeting further demanded the State Government to take up initiative to usher in a just society where the rights of the children including right to life as enshrined in the UN charter of 1986 CRC provisions are fully protected and to ensure implementation of Juvenile Justice (Care and Protection of Children) Act, 2000 in Manipur.
Children who participated in the protest rally organised under the aegis of Manipur Alliance for Child Rights (MACR) shouted slogans decrying crimes and violence on children.
The meeting held prior to to the protest rally was held with Member of Manipur Human Rights Commission RK Rajendro Singh and U Nobokishore Singh as chief guest and president respectively.
AMUCO advisor Dr Dhanabir Laishram, assistant secretary of the JAC formed in connection with Ichal case L Nandakumar, convenor of United NGO Mission, Senapati unit ZN Peter, AMSU advisor Kh Ratan and member of Salai Apunba Nupi Lup Ibethoi were also present during the meeting as guests of honour.
In his address, Kh Ratan said raping minor girls and later murdering them or kidnapping innocent children for ransom should not be tolerated and the Government give exemplary punishment so that similar incidents do not recur in Manipuri society.
Dr Dhanabir Laishram observed that by distribution of milk products among the children on Children's Day we cannot say that the rights of the children are being ensured.
It should be responsibility of the people and the Government to protect the children from crime and violence.
ZN Peter pointed that after the killers of Baby Lungnila Elizabeth are being given protection by an underground outfit instead of punishing them, anti-social elements are being encouraged and we are today witnessing spurt in crime against children.
RK Rajendro disclosed that out of every seven cases filed in Manipur Human Rights Commissioner, there are three rape cases.
This shows that the incident of violence on women and children in Manipur is on the rise.
He also flayed the State police for its alleged inaction on such cases.
He also urged all concerned to file the case of Ichal to the Commission so that it could take up every possible means to bring justice.