<!EpnHeading3>FPM's Henry, Jendai resign<!EpnHeading3End>
Source:
The Sangai Express
Imphal, December 23: With the resignation of two MLAs of the Federal Party of Manipur (FPM) from the Manipur Legislative Assembly, the 60-member Assembly has been slashed down to only 58 members.

The two FPM MLAs who resigned today are elected representative from 47-Karong A/C of Senapati district Henry Paotei and Samuel Jendai of 53-Tamenglong A/C in Tamenglong district.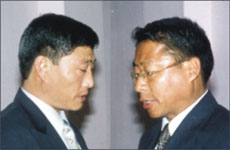 FPM MLAs Samuel Jendai (left) and Henry Paotei
According to Speaker Dr Maniruddin, both MLAs came to his office today morning to submit their resignation letters.
The consent to their voluntary resignation have also been given after hearing their cases today and accordingly Assembly Secretary Joute has issued an Assembly bulletin to this effect.
Following the resignation of the two MLAs, there are only 58 members in the 60-member Manipur Legislative Assembly.
There is no possibility or any arrangement to conduct byelections to fill up the vacant seats of Karong and Tamenglong A/Cs as a consequent to relinquishing the seats by the two MLAs.
As there is hardly three months left for the term of the present Manipur Legislative Assembly arrangement are being made for announcing the election schedule and notification for the upcoming 9th State Assembly election slated to be held in February 2007.It is presumed that the two MLAs resigned from their respective posts in view of the pressures being heaved by some Naga NGOs to project and support only those candidates from hill constituencies who would work for the interest of the Nagas.
The ongoing efforts being made under the leadership of UNC have also given out clear message to all aspiring Nagas candidates not to contest the election on the tickets of any National parties as it might affect in working for the Naga interests after being elected.
When contacted, Samuel Jendai said he resigned from being an MLA in the interest of expediting the ongoing Indo-Naga peace talks.
He said he would like to contest in the upcoming election on Congress ticket but does not what would be the response of the party.
When asked whether he would contest in the election as an independent candidate if the Congress party did not issue ticket to him, Jendai, however, hastened to add that would depend on the people of his Constituency.
'I would listen to their advice and act according to their wishes', he said, adding that his people have not yet spell out on how he should contest in the election.
On the other hand, there has been uncertainty on the position of the legislators of Federal Party of Manipur which have 13 MLAs after the party led by its president joined hands with MPP and DRPP in forming a new MPP.
Though there has been no official announcement, many FPM MLAs are allegedly gearing up to contest in the upcoming election on Congress tickets.