<!EpnHeading3>Kangpokpi decry kidnapping of kids<!EpnHeading3End>
Source:
The Sangai Express
Imphal, January 09: A sit-in-protest was staged today at Tumnoupokpi village of Senapati district to denounce the kidnapping of Mohini Martin and Hriini Hubert and to appeal for the safe and immediate release of the two school children.

The protest session held under the aegis of Tamkazak Women's Society Kangpokpi Area and lasting from 10 am till around 2 in the afternoon was participated by over 1500 people from 10 villages of Kangpokpi area including Daili, Phyapou, Liyai Kongpao, Liyai Kalapahar, Yaikongpao, Tumnoupokpi, Thanamba, Mahika, Kalapahar Nepali and Kalapahar Meitei villages.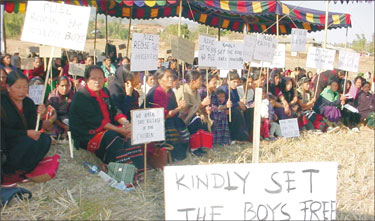 People of ten villages of Kangpokpi area staging a dharna to demand the release of the two kidnapped children
Urging the captors to set free Muhini and Hriini without further delay, chairperson of the Society Kh Kaikha stated that parents of the kidnapped children have been silently enduring the ordeals after their children were kidnapped.
Observing that act of kidnapping innocent children has no place in the society, Kaikha also reiterated the appeal for safe and sound release of the children on humanitarian ground.
Individuals and public leaders who also spoke during the protest session denounced the kidnapping.
Meanwhile, a statement issued by the Committee On The Two Missing Boys said sit-in-protest would also be held tomorrow at Karong.
Under the auspices of the Committee, people of Senapati areas had been staging sit-in-protests for the past few days.
A Core Committee has also been formed during an emergency meeting held on December 23 under the Naga Peoples' Organisation.
The Core Committee having 21 members drawn from district organisations is led by Solom Veino as chairman and S Isaac as secretary.
They can be contacted on 9436206419 and 9436424126.The two boys were kidnapped on December 14 and their whereabouts continue to be a mystery.
The NSCN (IM) had earlier stated that it has started investigating the case while the NSCN (K) had urged the Naga people to drive out the kidnappers if they happen to be taking shelter at their villages.
A large number of social organisations have appealed for the safe and unconditional release of the two children while many have condemned it.