<!EpnHeading2>Samples collected from Zoo birds<!EpnHeading2End>
Source:
The Sangai Express
Imphal, August 05: In the aftermath of the outbreak of avian influenza in Imphal, blood and carcass samples of birds being kept in the Iroishemba Zoological Garden have been collected by scientist of the Bombay Natural Historical Society, Dr Akty George, for laboratory tests at the High Security Animal Disease Laboratory, Bhopal.

On the other hand, the State Health Department has been observing closely all the members of a family belonging to a village of Imphal East district after a boy of the family who showed symptoms similar to those of bird flu died in a hospital.

All the family members have been administered Tamiflu.

Moreover, their blood samples have been sent to laboratory for examination.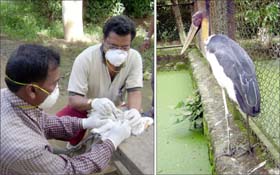 Experts collect samples from the birds at Iroishemba Zoological Garden following the outbreak of bird flu and a Stork at the Zoo
Speaking to The Sangai Express, Dr Akty George informed that 50 samples of different birds being kept in the Zoological Garden will be sent to the Bhopal Laboratory.
The blood and carcass samples collected with the help of Veterinary doctor L Sarat and his staff belong to guinea fowls which is a native of Myanmar and Egrets and some migratory birds.
Even as some dead cranes were observed in the Zoo premises, staff members of the Zoo maintained all the dead birds were young ones and they died of starvation as they could not collect food for themselves.
Amidst the massive culling exercise being taken up by the Veterinary Department within the 5 kms radius of the farm at Chingmeirong where 132 chickens perished due to bird flu, a boy belonging to Kshetrigao area had died with suspected symptoms similar to those of bird flu.
According to information received from JN Hospital, the boy succumbed at Shija Hospital on July 31.As his death appeared suspicious, a team of doctors of the Health Department were sent to his home.
The doctors observed that three other children who used to play together with deceased boy were down with flu.
Blood sample of one of the children was sent for laboratory test while all the family members are being monitored after administering them Tamiflu.
A team of scientists of the National Institute of Communicable Disease who went to take the medical history of the deceased boy found that the symptoms shown by the boy just before his death appeared to be of bird flu.
Moreover, there were cases of chickens dying in their home before.
However, blood sample of the boy could not be collected for test.
On the other hand, blood sample of a seven year old girl from Khurai area who showed symptoms similar to those of bird flu but whose parents refused to bring her to the isolation ward of JN Hospital has been tested negative for bird flu.
A doctor and an assistant who were part of a culling team are being housed in the isolation ward and their health condition are being monitored closely after they fell ill.
During the culling exercise which began on July 26 and ended on August 2, 3,07,053 number of chickens and 24,553 number of ducks were culled while 28,222 eggs and 23,150 kgs of poultry feeds were disposed.
Moreover, 3755 left out fowls have also been culled in the last two days.
Yet surveillance is still on to monitor any unnatural death of fowls within 5 to 10 km radius of the farm at Chingmeirong.
In the Assembly session held recently, MLAs Dr I Ibohal and Dr Ng Bijoy had urged to increase the compensation rate of fowls culled and to waive off loans extended to poultry farmers who have been affected by the outbreak of avian influenza.