<!EpnHeading2>Damodara to be laid to rest at Vrindavan<!EpnHeading2End>
Source:
The Sangai Express
Imphal, October 03: Cancelling the earlier schedule of bringing the body here today, ISKCON authorities have taken the mortal remains of His Holiness Bhaktisvarupa Damodara Maharaj from Kolkata to Vrindavan to perform the last rites in accordance to the wishes of His Holiness at Radhakund tomorrow at 2 pm.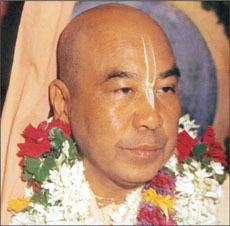 A file photo of Swami Damodara
Announcing the change in the plan, temple president of ISKCON Ajit Das said His Holiness Bhaktisvarupa Damodara Maharaja was scheduled to arrive in Manipur today for darshan of Sri Sri Krishnachandra and to give darshan to the devotees, friends and well-wishers.
But due to developments during last night regarding the condition of the body of His Holiness, it has been decided to immediately take his Holiness to Vrindavan/Radhakund for performing Samadhi rites as per His Holiness' expressed desire for the same.
Expressing regrets at not being able to bring His Holiness to Manipur, Ajit explained that according to Sastra, the body should be in good condition while being placed in the Samadhi.
In order to responsibly and properly fulfil the expressed desire of His Holiness regarding the Samadhi ceremony, all the devotees and disciplines of His Holiness both from Manipur and around the world, who were arranging earlier to bring His holiness to Manipur had to decide with a heavy heart to take His Holiness directly to Vrindavan/Radhakund for the Samadhi ceremony at the earliest.
On being contacted, Ajit Das who is on his way to Vrindaban along with the body of Swami, told The Sangai Express that hundreds of ISKCON devotees and disciples of Swami from across the world have begun pouring in at New Delhi en-route to Vrindavan to take part in the Samadhi ceremony to held tomorrow at 2 pm.
When asked about the cause of the death, Ajit, quoting reports of other Bhaktas at Kolkata, said Swami died of cardiac arrest.
However, Swami passed away peacefully after tolerating the chaotic situation that shrouded ISKCON in the wake of the terror attack on Janmasthami Day, Ajit added.
Ajit was also reportedly told by the Bhaktas from Kolkata that before 10 days of his passing away Swami talked about heaven and other spiritual matters to his disciples as if he knew that he would be leaving the universe.
'Swami Maharaj even rung up a few days back and suggested new arrangements of the temple committee', a broken Ajit said over the phone.
Meanwhile, over 20 ISKCON devotees from Imphal have left for Vrindavan today to take part in the Samadhi ceremony of their Maharaj.