<!EpnHeading1>Mixed bag on Day IV of culling<!EpnHeading1End>
40,000 culled, but bird smuggling on<!EpnHeading1End>

Source:
The Sangai Express
Imphal, July 29: Even as the culling exercise within the designated 5 km radius continues unabated for the fourth day today, there have been no let up in the attempts to smuggle birds and feeds from the affected zones to other parts of the State.

The culling exercise was taken up by 30 RRT personnel at Laipham Khunou and Paomei Colony, Kairang Muslim and its adjoining areas, Rongphei village and Liching, Uripok Polem Leikai and Achom Leikai, Top Dussara, Pishum Haoground Chingamathak, Keishamthong Elangbam Leikai, Lamphel Nurses Quarters, AG Colony, Langol Games village and nearby areas, Khagempalli, Samusang and Naoremthong, Uripok Lamboikhongnangkhong and Iroishemba area, Sagolband, Sagolband Amudon and Akham Leikai, Wahengbam Leikai, Kangubam Leikai, Khurai Ningthoubung and adjoining areas, Telipati, Sabal Leikai, Moirang Kampu, Soibam Leikai, Porompat and Top Khongnangkhong, Kongpal, Khurai Puthiba and Sajor Leikai, Kairang and adjoining areas, Thawalthaba and adjoining areas, Lairikyengbam Leikai, Khuman Lampak, Majorkhul, Wangkhei, Nongmeibung, Palace Compound, Tera bazar, Wangoi, Nagamapal and Kangjabi, Keishamthong and Kwakeithel bazar.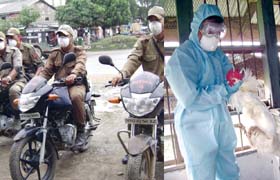 Cops provided with N95 masks to check smuggling birds; An RRT member culling a chicken
Around 40,000 birds were culled today, said an official source.
This brings the total number of birds culled in the last four days to 1,19,329 including ducks.
Even as co-ordination has improved considerably there is no respite in the attempt to smuggle out birds from the designated zones to other parts of the State.
Birds which were smuggled out from Imphal areas were seized at Wangoi and Lainingkhul today even as attempts to divert the birds were foiled at North AOC, Khoyathong and Kali Bari.
MLA of Lamshang Assembly Constituency has also reported to the Control room that unidentified persons abandoned about 100 dead fowls as the spot at Mayang Lanjing today.
On immediate receipt of the information police and Veterinary personnel have been sent to the place to gather the dead fowls.
The cause of the death is yet to be ascertained, but they not culled.
To help the State contain the disease from spreading further, the other North East States have offered to extend their help and co-operation.
A Joint Director of the Sikkim Veterinary Department Dr KC Bhutia arrived at Imphal today.
A four member team from Meghalaya is also expected to arrive here by tomorrow.
Likewise Assam has also offered to depute a team to help the State over come the problem of shortage of man power.
At present 34 RRT personnel of the Veterinary Department are being pressed into service, but this has proved inadequate to meet the demand of the situation.
Officials deputed by the Centre who have been arriving in batches during the last few days have started supervising the field work.
To help the State Government, the Centre has sent a fresh batch of 1000 pieces of N-95 masks as well as another 1000 piece of Personal Protection Equipments today.
The Control room has been flooded with calls and SOS messages all through the day.
A report was received today which said that 14 fowls perished at a farm at Tentha Khunou.
Other calls received at Control room included urging the Veterinary Department to come and pick up the fowls which have been left behind in the culling drive.