<!EpnHeading1>Senapati rallies for release of boys<!EpnHeading1End>

Source:
The Sangai Express
Imphal, December 27: Demanding the safe and immediate release of two kidnapped school children, people from all sections of the society staged a rally at Senapati district headquarters today.

muheni Martin and A hriini Hubert both ten year olds and standard III students of Don Bosco School, senapati were reportedly kidnapped for ransom on December 14 and their whereabouts remain unknown till date.

Over forty vehicles of all types joined the rally that commenced from Senapati ground and proceeded till Kanglatongbi before congregating at the starting point where a public meeting was also held.

Organised jointly by civil society organisations like the Naga Peoples' organisation, Senapati District Women's Association, Senapati District Students' Association, Senapati Town Area Committee and Karong Senapati Area Women Association, the rallyists comprised of representatives from the Naga, kuki, Meitei, Nepali community and others settled in the district.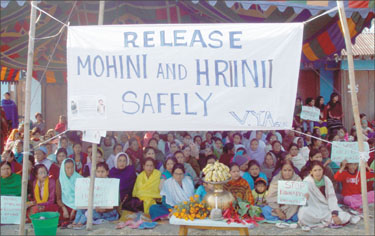 People from all walks of life staging a dharna to demand the safe release of the two school kids who were kidnapped on Dec 14
When contacted, NPO president M Dilli told The Sangai Express that social bodies and individuals, particularly those residing in Senapati district have been making relentless efforts to secure safe and early release of the two school children.
While condemning the kidnapping of the innocent students for ransom, Dilli, nevertheless appealed to the captors to release the duo without any harm.
Taking note of the report that two suspects are currently in the custody of the NSCN (IM), the NPO leader also urged the outfit to ensure release of the children without any further delay and expressed hope that investigation into the matter would provide some vital breakthrough.
SP (Senapati) Nishit Kumar Ujjwal when queried asserted that the police has been conducting surprise raids at different locations of the district to track down the kidnappers and rescue the kids.
"We are doing our best to secure safe release of the two boys," the SP quipped and disclosed that during such raids five individuals were picked up for questioning.
they were, however, released later.
Maintaining that all the police stations in the district have been put on high alert, Nishit conveyed of the Army and Assam Rifles extending logistic support in tracking down the culprits.
Meanwhile, separate sources identified the two prime suspects in the custody of the NSCN (IM) as Manikho Mao of Senapati district and Adei Gangmei of Tamenglong district.
Adei is said to be a former member of the NSCN (IM), according to the sources.