<!EpnHeading1>CM sets campaign tone in Thoubal District<!EpnHeading1End>

Source:
The Sangai Express
Imphal, January 23: With the first phase of the 9th Assembly election drawing near, campaigning in the 10 Assembly Constituencies of Thoubal district has picked up speed for which polling will be held on February 8.Adding to the election fever is the scheduled visit of AICC president Sonia Gandhi and Prime Minister Manmohan Singh, who are expected to arrive here by February 4 to campaign for the Congress party.

Altogether 19 Assembly segments spread across Thoubal, Senapati and Ukhrul districts will go to the polls in the first phase on February 8.Chief Minister O Ibobi who is contesting from Thoubal AC as well as from his home turf, Khangabok AC, set the tone for his campaign by addressing a huge Congress meeting at the ground of Chaoyaima Higher Secondary School, in Thoubal AC today.

Addressing the gathering, the Chief Minister said that the State Congress unit has already requested Sonia Gandhi and Prime Minister Manmohan Singh to campaign for the party in the first phase poll.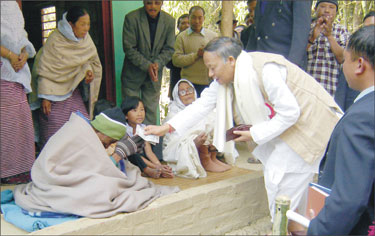 It is election time and what better than election promises to distribute to the people..
The AICC has already agreed to the request of the MPCC (I), said the Chief Minister but added that the exact date for their arrival is yet to be confirmed.
At the latest, they are expected to come here by February 4, he added.
The two leaders will address election meetings at Thoubal and Kakching, informed Ibobi.
Wooing the people of Thoubal AC, Ibobi said that he is contesting the election from two Assembly seats to test the strength and reach of the AICC.
"I decided to contest from Thoubal AC besides Khangabok, so that I can personally look into the needs of the people of Thoubal AC," explained the Chief Minister.
Turning on his charm, the Chief Minister said that the SPF Government has been able to complete a full term office and urged the people to ensure his victory from the two Constituencies.
The Chief Minister also urged the people of Thoubal district to judiciously vote and ensure that the Congress returns to power so that stability and development is assured when the next Government assumes office.
Taking a dig at the NCP and MPP, Ibobi said that the candidates of the two parties have all been rejected by the Congress.
The rag tag collection of some political figures will not bear fruits, claimed Ibobi and added that the NCP and MPP will not be able to send more than five MLAs from the valley areas.
Earlier before the meeting, the Chief Minister accompanied by his wife unfurled the flag of the Congress at the residences of the Commissioners of Thoubal Municipal Council.
An election rally was also flagged off.