<!EpnHeading1>Final phase poll marred by large scale booth capturing<!EpnHeading1End>
Source:
The Sangai Express
Imphal, February 21: Sporadic violence and large scale booth capturing marked the final phase polling in 20 hill constituencies today.

Repoll is likely to be ordered in more than 50 polling centres of seven constituencies on February 24.Poll percentage is estimated at 70 to 80 percent.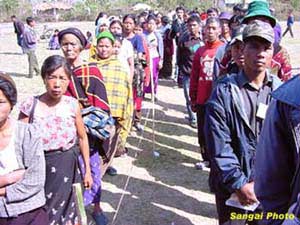 Repoll is likely to be held in 12 stations in Tipaimukh; 7 in Henglep, 20 in Singhat, 11 in Saikul, 2 in Chandel and one each in Tadubi and Karong.

Naga dominated districts witnessed by and large peaceful polling.

CCpur AC: Voting was disrupted at three stations in Churachandpur AC when armed men opened fire.

Miscreants also snatched ballot boxes from 58/25 polling station in Churachandpur AC at 10.30 am.

Violence erupted in the constituency at about 1 am when party workers of two candidates confronted each other.

One Maruti car and one 407 mini Tata used by the workers were destroyed and the police had to step in and retrieve the damaged vehicles.

Saikot AC: Booth capturing and rigging also dominated this constituency.

Sources said polling officials deputed for duty at polling stations 59/30 (Tuibong Jr HS), 59/31 (South Wing Tuibong Community Hall) and 59/32 (Tuibong Community Hall), reported to the Churachandpur DC last night that armed men descended upon these polling stations at 12.30 am and captured the booths.

BJP workers of Saikot AC said ballot boxes were snatched by workers of a rival candidate last night.

They also produced the stamped ballot boxes which they had managed to take from the booth capturers.

The BJP workers said two of them (booth capturers) were beaten by the public.

More disturbances occurred at Saikot AC.

Polling officials at polling station 59/1 said that workers of two candidates took away all the ballot papers at 5.45 am.

Polling officials said unidentified persons barged into polling station 59/19 (Tuiningphai Jr HS) and rigged the poll.

Of the total 543 voters enlisted in the polling station the unidentified men stamped their votes on 300 ballot papers.

Armed persons also captured polling station 59/20 (Dampi Jr HS); Polling materials were snatched.

Singhat AC: Unidentified persons barged into polling station 60/9 last night and snatched ballot papers and stamped the same in favour of a candidate.

Churachandpur DC PK Singh said that repoll may be ordered for a number of polling stations.

He said that till 12 pm, he received instructions to order repoll in nine stations in Saikot AC and five in Singhat.

He, however, said that he is yet to receive the exact number of polling stations where repoll should be ordered.

The DC further said that he has received reports that IRB men escorting poll officials to Pherzawl in Tipaimukh AC have been engaged in a fierce gun fight since last evening.

He however said that he is yet to receive any official report of casualty.

Meanwhile a BJP election agent has requested the Chief Election Commissioner as well as the Chief Electoral Officer to order repoll in 17 polling stations in Singhat AC.

The agent said unidentified gunmen captured ballot boxes and papers in the night of Feb 19 and yesterday.

Tipaimukh AC: Poll material were seized and set afire at Shivapurikhan polling station.

There are also allegations of booth capturing in four polling centres in Henglep AC.

Tengnoupal: Unidentified men snatched ballot boxes from polling station 42/1 (Tolen) and set them afire.

Ballot papers were also destroyed at polling station 42/29 while at polling station 42/22 voting was disrupted after only 372 votes were cast.

The remaining were destroyed by unidentified men.

Karong: Unidentified persons snatched ballot boxes and papers at polling stations, 47/14 (Khabung) and 47/27 (Ngari Khullen).

Saikul AC: Polling material were snatched at polling stations 46/13 (Khamnapokpi), 46/26 (Changpokpi), 46/36 (Phouoibi), 46/16 (Longa Koireng) and 46/14 and set on fire.

Security personnel were not able to reach polling stations 46/ 30 and 46/31, said sources.

Nungba AC: Armed men who identified themselves as members of a UG group pushed a Jeep of the FPM down a deep gorge near Toupul village today.