<!EpnHeading1>Super 6 inducted in CoM<!EpnHeading1End>

Source:
The Sangai Express
Imphal, March 09: Notwithstanding the growing tension within the Congress Legislature Party (CLP) over allotment of portfolios, six Cabinet Ministers were inducted into the Council of Ministers of the Congress led SPF Government.

After the newly inducted Ministers were administered the oath of office and secrecy, Chief Minister O Ibobi left for Guwahati to attend the NEC meeting there.

Eight days after O Ibobi was administered the oath of office and secrecy on March 2 as Chief Minister for the second time, Congress MLAs Th Debendra, Phungzathang Tonsing, Gaikhangam, TN Haokip, Md Allaudin and Pheiroijam Parijat of CPI were administered oath of office and secrecy by Governor Dr SS Sidhu during an oath taking ceremony held at Raj Bhavan at 1.30 pm today.

Even as RJD is supporting the SPF Government, none of its legislators were inducted into the new Ministry.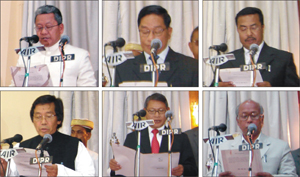 THE CHOSEN SIX : Clockwise from top; Gaikhangam, Phungzathang, Allauddin, Debendra, TN Haokip and Parijat
The oath taking ceremony was attended by Protem Speaker O Joy, newly elected members of Manipur Legislative Assembly, high-ranking civil and police officials.
With the induction of six Ministers today in addition to the Chief Minister, the Council of Ministers has seven members now out of its permitted strength of 12.The seven vacant Ministerial posts will be filled up later.
Out of six Ministers who took oath today, three belong to Imphal East district.
They are Th Debendra of Jiribam Assembly Constituency, Md Allaudin of Keirao Assembly Constituency and Ph Parijat of Lamlai Assembly Constituency.
Churachandpur district has two Ministers in Phungzathang Tonsing elected from Churachandpur A/C and TN Haokip elected from Saikot A/C.Tamenglong is represented by Gaikhangam elected from Nungba A/C.At the moment, Imphal West, Bishnupur and Senapati districts have no representatives in the Council of Ministers as yet.
With no Congress or CPI MLAs elected from the Assembly Constituencies of Chandel, Ukhrul and Sadar Hills, these Assembly Constituencies are most likely to go unrepresented in the Council of Ministers.
Briefing media persons after the oath taking ceremony, Chief Minister O Ibobi said that the six Ministers inducted today were selected after comprehensively taking into consideration criteria such as seniority, location of their constituencies and districts to which they belong.
The existing Ministry will be enlarged for the second time on March 23 or 24 after the scheduled Assembly session and the remaining would be inducted into the Ministry, Ibobi disclosed.
Moreover, the new Ministers would be allotted their portfolios within a short time, he said.
According to information received by press, no MLA from Imphal West and Bishnupur districts were among the Ministers who took oath today on account of serious disputes amongst the MLAs for ministerial berths.
Just before the oath taking ceremony, MPCC president Gaikhangam came inside the banquet hall of the Raj Bhavan and then went outside with a dissatisfied expression on his face.
However, he was called back by TN Haokip and Allaudin under instruction from O Ibobi.
It is reported that Gaikhangam was not happy when he saw his name written on the fourth chair.
But Gaikhangam himself claimed that he had no misgivings.
When asked if he would give up his post of MPCC president in line with the INC's principle of 'one man, one post', Gaikhangam said that it all depends on the individual concerned adding that time will decide the matter.
As for CPI, the party is lobbying hard to include one more MLA in the Council of Ministers.
In case the Congress party decides to give the post of Speaker in place of Minister, CPI may accept it, informed a CPI leader.
A reliable source informed that the Congress led has offered the post of Deputy Speaker to its partner the CPI but the latter has refused to accept the offer.