<!EpnHeading1>Senapati kids murder case<!EpnHeading1End>
Tell IM to hand over suspects : Imp to Delhi<!EpnHeading1End>

Source:
The Sangai Express
Imphal, April 01: The State Government has approached the Union Home Ministry and Centre's interlocutor in the ongoing peace talks with NSCN (I-M) K Padmanabhiah and the Nagaland Government to prevail upon the outfit to hand over three suspects involved in the killing of Hrinii Hubert and Muheni Martin who are in their custody.

On the other hand, representatives of the Core Committee formed in connection with the incident have left for Hebron Camp of the NSCN (I-M) at Dimapur today to meet leaders of the outfit in this regard tomorrow.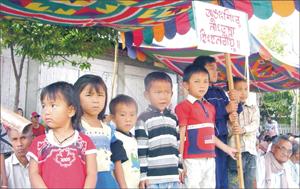 As the murder of Muheni Martin and Hriini Hubert continue to shock the State, there is no let up to the demand to punish the killers
Talking to The Sangai Express, a top ranking official of the State Government informed that the decision to approach the Centre to urge the NSCN (I-M) to hand over the three suspects in its custody was taken so that necessary legal action could be initiated in connection with the killing of the two kidnapped children.
Accordingly written missives would be sent to Union Home Ministry, Centre's interlocutor K Padmanabhaiah and Nagaland Government, the official said.
Detention of the three suspects in the custody of the NSCN (I-M) has hampered process of investigation, the official added.
Meanwhile, speaking to media-persons on the sidelines of a blood donation camp held at the premises of the 128 Bn CRPF at Mongshangei here today, Chief Minister Okram Ibobi Singh confirmed the report that the State Government has sought the assistance of the Centre in securing the arrest of the three suspected Senapati kids murderers who are presently in the custody of the NSCN (IM).
"We have intimated the matter to the Centre so that the suspects are handed over to the police for booking them under the rule of law", Ibobi said.
To a question on the assurances given by the State Government to book the perpetrators of the gruesome crime within ten days, the CM quipped "The police are putting in their best efforts to crack the case".
On the other hand, a delegation of the Core Committee has reportedly left for Dimapur today to meet the leaders of the NSCN (I-M) at Hebron Camp tomorrow.
In connection with the case, five kilonsers (ministers) of NSCN (I-M) also reportedly visited Senapati district today morning, according to sources.
Ganja worth Rs 15 lakhs seized : Jiri police seized a huge consignment of banned Cannabis (Ganja) from some peddlers at Nungchapi village, Jiribam, reports our correspondent.
The owner of the consignment has been identified as Mangboi Kuki (35) of Sejang village, Jiribam.
According to Mangboi, 30 quintals of Ganja worth Rs 15 lakhs were seized from his porters by the police.