"I Like Korea"
Korean Cultural Diffusion in Manipur
By Otojit Kshetrimayum *
Introduction

Culture is a design for living. The culture of a society is a way of life of its members. Culture is a learned behaviour shared by and transmitted among the members of a group or society.

According to E. B. Tylor, culture is that complex whole which includes knowledge, belief, art, morals, law, custom, and any other capabilities and habits acquired by man as a member of society. The process of spread of cultural traits is termed as cultural diffusion. Cultural traits are the individual acts and objects, which constitute the overt expression of a culture.

Since 1990s a major course of cultural diffusion has been gaining ground in India. There has been a major makeover in the cultural life of the Indian society after its policies on liberalization and globalization. The North Eastern States of India are not an exception.

The wave of globalization and information and communication technology revolution has also been felt in Manipur, one of the North Eastern States of India.

In such a setting, this paper specifically tries to explore the nature of diffusion of Korean popular culture and also its impact on North East India, particularly Manipuri society through Korean satellite channel and movies. The present article illustrates that a new wave of youth culture has surfaced in recent years in Manipur with the diffusion of Korean popular culture known as 'Korean Wave'.

Korean Wave in Manipur: An Appraisal

Hallyu is a term coined by the Chinese media which literally means "Korean Wave". It is a collective term used to refer to the phenomenal growth of Korean popular culture encompassing everything from music, movies, drama to online games and the Korean cuisine. Its roots are traceable to democratization, which kicked off with the South Korean elections in 1987 and the Seoul Olympics in 1988.

Korean wave was first introduced in the late 1990s in China referring to the popularity of Korean culture in foreign countries. It was initiated when the exported Korean TV dramas and remakes of pop music became popular in China and Hong Kong.

From well-packaged television dramas to slick movies, from pop music to online games, South Korean companies and stars are increasingly defining what the disparate people in Asia watch, listen to and play.

Before we delve into the assessment of Korean wave in Manipur, let us briefly examine its nature in India in general. The phases of Korean wave in India can be divided into two. The first may be referred to as Korean economic wave.

It came in India with the liberalization of Indian market in the beginning of 1990s. There was essentially growing association with the Korean companies like Hyundai, LG, Daewoo, and Samsung. In following years, these companies further expanded and diversified the range of their products and became household names in India.

The second phase may be termed as Korean cultural wave. It has reached the Indian shore very recently as compared to some of the other Asian countries. In May-June 2006, a Korean delegation visited India, as part of its efforts to spread the Korean Wave in this country.

For the very first time in India the Korean drama "Emperor of the Sea" was introduced by DD-I (National TV Channel) on 23rd July 2006. In another move to make Indian audiences aware about the Korean cultural richness, the MBC hit drama "A Jewel in the Palace" began to be aired on DD-I from 24th September 2006.

There has been growing demand in India for not only Korean language but also Korean studies in general with the growth of Korean companies in India. It is significant to note that the two phases are complementary to each other.

However, in the case of Manipur the nature of diffusion of the second phase of Korean wave in India gives a different picture. Manipur felt the tide of the emerging Korean wave more or less at the same time as experienced by other Asian countries like China, Hong Kong, Japan, Taiwan etc.

What made it possible? Many factors facilitate the foray of the phenomenon. Some of them may be discussed as follows:

o Introduction of cable television network
The introduction of cable television network has played a significant role in the dissemination of culture to other societies. Manipur has experienced this process of cultural diffusion mainly through this medium. The Korean satellite channel Arirang is the harbinger of Korean wave in Manipur.

Its popularity began largely due to the ban on Hindi satellite channels, which used to be the favourite channels of the Manipuris. They started to look for an alternative channel, which could give them wholesome entertainment. The search was fruitful. The popular Korean Channel, Arirang has been instrumental in bringing closer home the rich Korean culture, tradition and cuisine.

o Ban on Hindi satellite channels and movies
Hindi films and Hindi television channels, except national channel Doordarshan (which is under the state control), were banned by one of the underground revolutionary organizations of Manipur in the year 2000. Then forth, it had been a gloomy scene for movie lovers here as cinema halls owners were forced to convert their halls into schools or shopping malls.

No doubt, there has been a digital film revolution in Manipur to bridge this gap, it has been left to the films from Korea, especially South Korea and Thailand brought in through Myanmar border to win the hearts of the enthusiast crowd here with their youthful romances, thrillers and action-packed movies.

o International border trade
India's Look East Policy has opened new vistas in terms of trade between South East Asian countries and India through Manipur, an international border state with Myanmar. This has not only encouraged trade in various items but also smuggling of pirated music and movie CDs.

Socio-cultural implications of Hallyu

o New movie cult
The 'Hallyuwood' movies are gradually replacing the Bollywood and even the Hollywood ones. Instead of current Bollywood favourites, it is movie names like "The Classic", "Windstruck", "You are My Sunshine", "A Moment to Remember", "Love so Divine", "My Sassy Girl" etc., that are on the lips of the teenagers.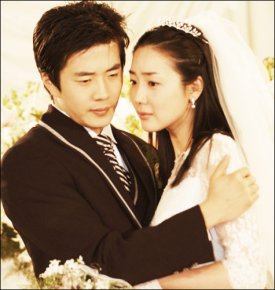 Stairway to Heaven (2003-2004, SBS drama special)
Picture Courtesy: http://www.koreanfilm.org
The posters of Korean actors and actresses like Gweon Sang-woo, Cha Tae-hyun, Jeon Ji Hyun, Jung Da Bin and Song Seung Hun have replaced that of Shah Rukh Khan, John Abraham, Rani Mukherjee, Aishwarya Rai, and others.
"Mostly young guys come to rent the Korean film CDs from us," says Naoba, who is a salesman in a CD parlour at Imphal. "I like watching them as they are so cool," says 15 year-old Marina, a Class IX student who loves watching Song Seung Hun. "It's easy to understand the film as they've English subtitles," she further adds. Even the local cable network ISTV has been cashing in on this new fad by telecasting these films through their network on prime time.
o New youth culture
With the arrival of
Arirang
, its impact upon the Manipuris, especially among the youngsters has been felt in myriads of ways. For example, after watching the various Korean serials on
Arirang
, there is an earnest desire by the youngsters to imitate and copy everything from language, to food habit, to dress style, even the body language and some Korean manners.
They have started using some common sentences used in the day to day life by the serial stars. For instance,
anna saiyo
(halo),
sarange
(I love you),
watuke
(what to do),
waju waju
(yes) etc. They begin to wish each other through Korean style.
In fact, there is competition among the sibling about the knowledge of language competence. Before, hardly the youngsters knew about 'chopsticks', but now they have learnt to use it and some of them have food with it. Now, the traditional plate for having rice is being replaced by bowl.
They have become so familiar with the Korean actors, actresses and singers that most of them know Kang-ta, Kang-Sang-Hyun, Baby Box, Boa, Jang- Nara, Che-in-Fio, Jyun-Sung etc. Some of them can even sing some of their favourite Korean singers' songs.
Bijen, an undergraduate, says "There are many things in Korean cultural life that are shown in serials and movies, which we can relate with our own life and society. I like Korea".
Like most of the Korean heroes, many youngsters in Manipur are growing their hair. By
Ganji
's skirt, they mean the style of skirt worn by a Korean serial character called Ganji. By
Kangta
's earring, they mean a particular earring worn by the singer Kangta.
Among school kids and teenagers, Korean movie is one of their hot topics. Bollywood movies had once occupied a colossal space in the lives of the Manipuri cinegoers. However, with their ban it is the Korean movies along with the Manipuri movies (digital format), which have filled the void.
America was a dream for every Manipuri youth before, but now is slowly shifting towards Korea. "I want to learn Korean so that I can know more about their culture", echoes Thajamanbi, a class XII student. The youths have also started sleeping on the floor of their room instead of on the bed. They feel that it is so fashionable.
o New business trends
These pirated films, which can be rented for as low as five rupees or ten rupees for a night are a rage with the audience. These movies come in special DVD formats consisting of around eight to nine movies in a DVD.
"We make copies and either sell them or rent them out", says Manglem, a video parlour owner at Imphal. However, there are also some dissident voices against the flooding of these movies asking for censorship.
The markets at Imphal, generally known as Moreh (referring to one of the towns of Manipur in Indo-Myanmar border where most of the international trade takes place) markets, which deal with imported items from South East Asian countries through Myanmar, are flooded with pirated movie, television serial and music CDs mainly from Korea. There are also trends of making music videos of Manipuri songs using clippings from Korean movies and are then sold.
Conclusion
The conclusions that we can draw from the above evaluations are Korean wave stormed Manipur more or less at the same time it started spreading to other Asian societies. It was only on 23 July, 2006 that the first ever Korean drama was aired on India's national television channel, DDTV. The Manipuri experience of the Korean popular culture was not under the direct initiative of the government.
It is mainly through cable television network (Arirang) and pirated music and movie CDs that Korean cultural wave entrenches the heart of Manipuri society. Factors that facilitate the foray of Korean wave in Manipur are introduction of cable television, ban on Hindi satellite channels and Hindi films and opening up of international border trade between India and South East Asian countries through Manipur.
The key factor that abets the popularity of Korean wave is the cultural proximity of Korean and Manipuri societies in terms of both being of Mongoloid stock; both societies being based on clan communities; sharing similar traditional religious structures in
Sanamahism and Shamanism
; similar streams of philosophy in traditional music and dance; and similar forms of folk games.
Moreover, it is the kind of theme and character that the Korean movies and drama depict which touches and melts the heart of the viewers. Not only the younger but also the older generations of Manipur share the same sentiments while watching
hallyu
dramas and films; and also identify with its dance and music.
The younger generation in particular seeks to learn more about the Korean culture, traditions, language and fashion.
Hallyu
can help to develop broader cultural exchange and cooperation between Korea and North East India.
Related Articles:
---
* Otojit Kshetrimayum, a Research Scholar of Sociology, Jawaharlal Nehru University, New Delhi, contributes regularly to e-pao.net . The author can be contacted at otojit(at)gmail(dot)com . This article was webcasted on 6th June 2008.
---
* Comments posted by users in this discussion thread and other parts of this site are opinions of the individuals posting them (whose user ID is displayed alongside) and not the views of e-pao.net. We strongly recommend that users exercise responsibility, sensitivity and caution over language while writing your opinions which will be seen and read by other users. Please read a complete Guideline on using comments on this website.